Back to school in Bend!
700 N.W. Bond Street
Bend, OR 97703
Local: (541) 382-5174
Elsewhere: (877) 661-4228
Contact Us
High Gravity Extravaganza
"Go Big or Go Home"
Special Beer Tasting
& Meet the Brewers
with
Live Music by
Trixy & the Nasties
Urban Sub All Stars
MOsley WOtta
Tony Smiley
Redwood Son
Saturday, January 18, 2014
1 p.m. 'til 10 p.m.; music 3–6 p.m. & 7–10 p.m.; meet the brewer 2–5 p.m. |
Free to attend; $1.25 per taste |
All ages welcome; 21 and over to drink
About High Gravity Extravaganza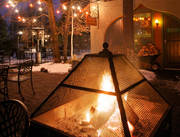 Come celebrate the uniqueness of the High Desert in January with an extravaganza of big & bold high-gravity beers.
[2014 Beer list]
Enjoy big bold ales from select McMenamins Breweries, including:
Monroe
High Street
McMenamins Columbia
Thompson
West Linn
Edgefield
Old Saint Francis
Roseburg Station
Crystal
Concordia Kennedy

And from Bend-area breweries, including:
Bend Brewing Company
Three Creeks Brewing Company
GoodLife Brewing Company
Worthy Brewing
Smith Rock Brewing
Solstice Brewing Company
Huddle around the four blazing fire pits while you enjoy the BBQ food specials, and chat with the brewers as many beers are poured. Enjoy the live music, too:
3 p.m. 'til 6 p.m.
The Nasties
7 p.m. 'til 10 p.m.
Urban Sub All-Stars featuring MOsley WOtta & Tony Smiley
Redwood Son
About Trixy & the Nasties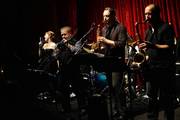 Trixy and the Nasties is a Motown infused Portland band with a little slice of funk. The seven members are comprised of a female lead vocalist backed by a six-piece horn and rhythm section and is quickly building a loyal and devoted following of fans. This band is just looking to have a good time with music that is fun, danceable, and high energy. Trixy, Angelene Green, captivates the audience with a honeyed stage presence combined with assertive vocals she delivers with a fiery unrestraint. With influences ranging from jazz and funk to rock and roll the members have played in such bands as Wheels in the Sky, Motet, Intervision, Joey Porter Funk Tributes, Supraphonics, Adult Education, Heavy Brothers, Philly's Phunkestra, Steely Dawn, Trio Subtonic, Dan Balmer, Superjazzers, Ben Darwish Quartet, Echo Helstrom.
T&TN are: Angelene Green a.k.a Trixy (vocals), Joshua Cliburn (alto/tenor saxophone), Marc Hutchinson (tenor/bari saxophone), Bruce Green (trombone), Randy Rollofson (drums), Bill Athens (bass), Dave Iula (guitar)
About Urban Sub All Stars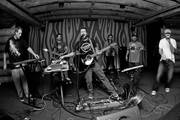 Urban Subs blend a fresh mix of funk, Soul, R&B, reggae, and hip-hop to achieve a universally friendly sound. Their vibe creates a fun positive energy that music lovers from all backgrounds can appreciate.
About MOsley WOtta
MOsley WOtta is a "Ghut" Rock and Hiphop musical performance group from Bend Oregon. They have performed (twice!) at Ted X, Sundance Film Festival, and the International PBR Festival. They have been voted Best Band in central Oregon 4 years in a row! Delivering a eclectic poetic flow of lyrics, MOsley WOtta can energize a crowd in a way that is without equal.
Website:




Facebook:
About Tony Smiley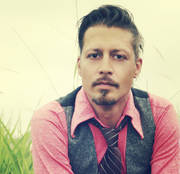 Since 2000, Tony Smiley has captured audiences with his unique beats. This musical savant loops his way through a unique genre of music that you won't find anywhere else. All with witty, engaging, and energetic stage presence. His cosmic dance of electric melodies mixed with world beats, Mongolian throat singing and beat-boxing have earned the Loop Ninja a cult like following who repeatedly embark on his musical journey. Creating each track with a raw, primal and pulsating connection between rich sounds and passionate lyrics.
The songs of Tony Smiley are a tantalizing ride through electro acoustic music that will cause your musical senses to rise. During the experience you can expect original soul bearing songs, improv crowd pleasers, and creative cover mixes. As he loops his way through a set he builds the audience's anticipation by using, keyboards, drum machines, guitars, tambourine, cowbell, vocals and beat box sounds through Boss Loop pedals. His songs are original, groove-laden works of art. The loop ninja will "completely make you a believer." (Andy Summers, guitar player for the Police)
In 2010, Smiley joined the ranks of his fellow loop artists, winning 3rd place in the National Boss Loop Contest in Hollywood. Judges included: Paul Youngblood (Boss US Director), Frank Gambale (Guitar player for Chick Corea), Andy Summers (Guitar player for The Police), Derek Murdock (Bass player for Kevin Eubanks, Tonight Show Band), Michael Molenda (Editor of Guitar Player Magazine). He continues to work with Roland/Boss running pedal clinics and performing for international ad campaigns.
Currently, Smiley can often be found composing and laying down progressive loops with hip hop roots in the Pacific Northwest; flying solo or playing with musical friends such as Redwood Son, Keegan Smith and MOsley WOtta. If you would like to experience the sounds of Tony Smiley follow him on FaceBook, YouTube, MySpace and Reverbnation or schedule a show.
website:




Facebook:
About Redwood Son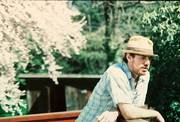 Whether or not the name and music of Redwood Son has yet hit the big radar, this year's "Best New Artist" of the Portland Music Awards is on the rise. Their 20 Song double-disc debut, The Lion's Inside, boasts a dynamic versatility that crosses the borders of their West Coast Americana with hook-laden roots-rock and alt.country, while maintaining an authentic Universal "Pop" vibe.
Led by singer-songwriter Josh Malm, Redwood Son's long anticipated release of The Lion's Inside signifies a culmination of Malm's tireless persistence as a performer and live music presenter throughout the Pacific Northwest since 2005. Though making an initial mark under his previous moniker J*Malem, he birthed the concept of Redwood Son in 2009 searching for an honest sound representative of his childhood in the California Redwoods. The first incarnation of the band was making way towards this very album while establishing a local presence when an unexpected catastrophe struck. On November 4th, 2009 Redwood Son's original drummer and Malm's long-time friend Kipp Crawford was killed in a tragic event that remains partly unsolved. Though Redwood Son experienced a state of dismantle with uncertain destiny, Malm did not lose sight of their shared vision alongside the standing support of the group's original guitarist Chance Hayden. The project was resurrected in the spring of 2010 to nobly move forward, recording The Lion's Inside in Crawford's honor along with an unreleased dedication track titled "Because of You".
The rawness of Redwood Son's beginning is nostalgically captured on Disc One: Summer of '77, focused on the band's sound as a unit along with guest instrumentalists who compliment Malm's friendly lead vocals. Known for bringing the right guys together, trusty engineer Rob Stroup fostered Malm's connection to the authentic sounds of roots-rock and alt. country. The disc was then mixed with a warm analog approach by Rian Lewis, bringing the presence of a laid-back summer day to the ears. Less than a mile away, Disc Two: New Beautiful Day was recorded and produced simultaneously by Dean Kattari to beckon the band's mainstream viability. Here the band's core shows an even greater expansiveness shouldering a more lyrically focused sound, with guest vocals on nine of the ten tracks from singers including Gretchen Mitchell and Ray Frazier. Though the two discs stand tall individually, together they represent a full circle of Malm's musical journey thus far. His thoughfully told stories are the focal point throughout, binding his many musical influences into Redwood Son's distinctive brand of West Coast Americana.
MySpace page:




Reverb Nation page:




Redwood Son Facebook:




Josh Malm Facebook:
Map & Directions
Tags for this Event:
Events:
McMenamins Celebrations
Beer, Wine, and Spirits
Music:
Americana
World Music
Property > Old St. Francis School
Related content (tags):