Relax in style amid the legends
112 N. Tower Ave.
Centralia, WA 98531
Local: (360) 736-5164
Elsewhere: (866) 736-5164
olyclub@mcmenamins.com
18th Annual Olympic Club Brewfest
Featuring 19 breweries
Sassparilla
Lee Koch Trio
1 p.m. 'til 11 p.m.; music at 7 p.m. |
$12 per 10-sample punch card |
21 & over in brewery and theater; all ages in the pub
About 18th Annual Olympic Club Brewfest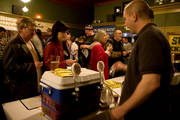 Though our rooms are sold out, we're teaming up with the nearby Holiday Inn for hotel packages with shuttle service to our door!
[download the brewfest booklet]
McMenamins breweries featuring beers at the event:
East Vancouver Brewpub
Mill Creek Brewpub
McMenamins on the Columbia
Queen Anne Pub
Six Arms
Spar Café
Edgefield Brewery
Olympic Club Brewery hey, that's us!
Guest breweries include:
Elliot Bay Brewing Company, Seattle, Wash.
Loowit Brewing Company, Vancouver, Wash.
Mt. Tabor Brewing Company, Vancouver, Wash.
Fish Brewing Company, Olympia, Wash.
Burnside Brewing, Portland, Ore.
Dick's Brewing, Centralia, Wash.
Diamond Knot Brewery, Mukilteo, Wash.
Scuttlebutt Brewing Company, Everett, Wash.
Fremont Brewing Company, Seattle, Wash.
Heathen Brewing, Vancouver, Wash.
Red Ox Brewing, Tigard, Ore.
How's about some history, a lot of beer sampling, live music and more beer? It's our 18th annual brewfest, featuring unique tap selections from McMenamins' Washington brewers and guest brewers alike.
In addition to soaking up the atmosphere (and the beer!) of one of McMenamins' most legendary establishments – with its history of railway bootlegging, captured train robbers, subterranean tunnels and more – you're also invited to tour the Olympic Club brewery, relax in the outdoor seating area, play a round of pool, collect your McMenamins Passport stamps, and enjoy specials from the open-pit barbecue and worldly whiskey samples, too.
Whiskey Pass
Featuring spirits from all over the world
4 p.m. 'til 8 p.m. · $2 per sample
Live music
7 p.m. · Lee Koch
9 p.m. · Sassparilla
About Sassparilla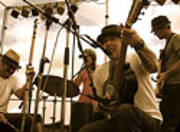 Sassparilla was fermented in the bold-dank regions of Chicago and Pittsburgh and spewed onto the sidewalk of Portland's 24th & Alberta from the mouth of a 5-gallon bucket, with homemade instruments in their clutches: a cigar-box guitar made from Granny's old jewelry box, a washtub bass given a severe beating with a stick, a polka dotted bucket drum kit with rusty break-drum & a hat-box bass. Adding to the mix is a smooth, lulling washboard's rat-tatting - articulated by a man named "Sweet Pea'" and a melodic and blustery fiddle/harmonica duo that dances and interjects like a muscular horn section. With passion, fury, speed, hustle and emotion, the whiskey rains like hellfire, the fingers fly over resonators, and this sextet muster their collective will to never play like cowards.
The result is a one-of-a-kind concoction of homemade, punk-infused, Portland blood-jug holler music.
About Lee Koch Trio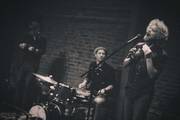 Hailing from southern California, the Lee Koch Trio wields guitar, harmonica, violin, and drums to deliver impactful, original music. Their live performances are imbued with artistry and integrity and are known to lift up, shake down, and send you off with a new sound in your head.
People that see Lee live try to explain their natural attraction to his performance. It's a kind of electricity. You believe what he's singing. His energy is captivating and refreshing. The songs themselves are soundtracks-to his own journey, and journeys we all are on. So when Lee sings "...set your sails, put out to sea, rest your fears and come with me..." you can't help but be inspired to follow that voice."
website:
Map & Directions
Tags for this Event:
Events > Beer, Wine, and Spirits
Music:
Americana
Blues
Property > Olympic Club
Related content (tags):