The Noted
#70 of the Crystal Ballroom's "100 Nights"
Sunday, December 22, 2013
7 p.m. |
Free |
All ages welcome
About The Noted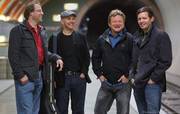 "Comfortably, unpredictable elemental rock"
The band's music is described as "Thought provoking great new songs, influenced by the music we grew up with."
Their new CD, "At This Moment" was featured by the iTunes editorial department on the main page the debut week (July/2013)
One radio station regularly playing "Rhapsodize", by The Noted says, "Their 2013 release "At This Moment" is a mixture of silly fun songs, beautiful ballads, and a wide range of stylistic rock tunes with political and social commentary that will get better with every listen.
The core band includes...
Daniel Work: piano/synths/acoustic guitar/lead vocals and primary song-writer
Jeff Koch: electric guitars
Mike Snyder: drums/percussion
John Dwyer: bass/back-up vocals
Angela Baldino: vocals/percussion
You might hear a resemblance to legends Paul McCartney, Yes, Collective Soul, Manhatten Transfer, U2, Tom Petty, and Jackson Browne; but assuredly these songs speak direct from the musical heart and soul of only The Noted.
About #70 of the Crystal Ballroom's "100 Nights"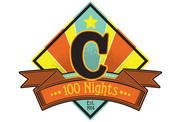 Portland's Crystal Ballroom, as an ongoing entertainment staple for the city since 1914, celebrates its 100th birthday with a 100-day-long party! From October 14, 2013 to its actual centennial-mark on January 21, 2014, daily events will tumble forth from the historic Crystal Ballroom and its second-floor space Lola's Room, with an occasional spotlight pointed at the affable setting of Ringlers Pub.
Events will feature a mix of current national acts, the return of longtime Portland favorites, showcases of up-and-comers, and themed events inspired by key eras of the Crystal past. While the series will end with a bang - a performance by the Decemberists' Colin Meloy on January 21 - the entire run of shows will be stacked with stellar talent. Additional events will pay tribute to the Crystal's amazing history, with ballroom dance extravaganzas, old-timey/Americana dances, a gypsy-themed event, soul/funk shows and psychedelic jams.
Map & Directions
Tags for this Event:
Property > Crystal Ballroom Property
Related content (tags):