Jawbone Flats
#33 of the Crystal Ballroom's "100 Nights"
Friday, November 15, 2013
7 p.m. |
Free |
All ages welcome
About Jawbone Flats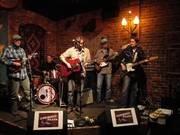 The influences are vast, but it all comes back to Portland when they're asked to describe their sound. However, Jawbone Flats got their name from a tucked away spot in a protected wilderness area East of Salem. Jawbone Flats is an old abandoned mining town surrounded by some of the most lush old growth forest you'll find in the state. In one sense, it's as Oregon as it gets.
The band that takes its name from the hidden treasure also fits a style that can make you appreciate the outdoors, good friends and a cold beer. The members of the five-piece has been playing with each other and in a grab bag of local sounds and bands since 2000.
About #33 of the Crystal Ballroom's "100 Nights"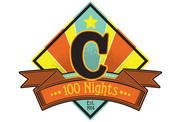 Portland's Crystal Ballroom, as an ongoing entertainment staple for the city since 1914, celebrates its 100th birthday with a 100-day-long party! From October 14, 2013 to its actual centennial-mark on January 21, 2014, daily events will tumble forth from the historic Crystal Ballroom and its second-floor space Lola's Room, with an occasional spotlight pointed at the affable setting of Ringlers Pub.
Events will feature a mix of current national acts, the return of longtime Portland favorites, showcases of up-and-comers, and themed events inspired by key eras of the Crystal past. While the series will end with a bang - a performance by the Decemberists' Colin Meloy on January 21 - the entire run of shows will be stacked with stellar talent. Additional events will pay tribute to the Crystal's amazing history, with ballroom dance extravaganzas, old-timey/Americana dances, a gypsy-themed event, soul/funk shows and psychedelic jams.
Map & Directions
Tags for this Event:
Music > Rock
Property > Crystal Ballroom Property
Related content (tags):