Chain and The Gang
Shivas
The Hive Dwellers
#95 of the Crystal Ballroom's "100 Nights"
Thursday, January 16, 2014
7 p.m. doors, 8 p.m. show |
$10 advance, $12 day of show |
All ages welcome
Buy Tickets
Tickets on sale now!
About Chain and The Gang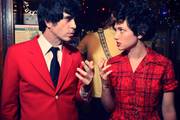 CHAIN & THE GANG IS A ROCK 'N' ROLL GROUP
WHO MAKES A DECLARATION OF ... DEPENDENCE!!!!
Yes - you heard that right!
They say: "Depend on us for martial rhythms, minimal riffs with maximum fuzz, bass throbs, shrieks, shouts, mutters, and confessions, as well as bewitching call and response tunes to make any indentured work force proud."
Oh sure; the "Independent Set," or the "indies" as they like to say, dig their groups and that's all fine ... if you are into nice, unassuming, and thoroughly respectable "music." But the "Deps" - represented by CHAIN & THE GANG, are into something else.
They Depend on the manic thrill of outlaw noise and performance ... they need it like a fish needs water, like a bird needs air, like a heart depends on love. And dependability is what CHAIN & THE GANG provides. Dependably perverse, dependably ecstatic, dependably astonishing. CATG's audience depends on them to bring the moveable riot into the local clubhouse ... they depend on the tunes too, crying out for "CERTAIN KINDS OF TRASH", "FREE WILL" and "HUNTING FOR LOVE" from the new CATG LP "IN COOL BLOOD".
Yes, that's right - a third CHAIN & THE GANG record. After 2009′s "DOWN WITH LIBERTY ... UP WITH CHAINS!" and 2011′s "MUSIC'S NOT FOR EVERYONE", the world said: "CHAIN & THE GANG just can't possibly top themselves." But you know what? CHAIN & THE GANG proved those doubters wrong.
"IN COOL BLOOD," starring CHAIN & THE GANG troublemakers Ian F Svenonius Katie Alice Greer, features Brett Lyman playing the electric guitar, Chris Sutton on electric bass guitar, and Fiona Campbell driving the drumkit, as well as a combo of CHAIN & THE GANG stalwarts and ringers like Brian Weber (organ), Fred Thomas (bass guitar), Amber Fellows (piano), Spencer Kelley (electric guitar) and Austin Cooper (bongos). All recorded by Calvin Johnson at the infamous Dub Narcotic Studio in Olympia Washington and released on the K Record Label!
"IN COOL BLOOD" is CHAIN & THE GANG's most dependable record yet. One listen and you too will count yourself a "Dep."
About #95 of the Crystal Ballroom's "100 Nights"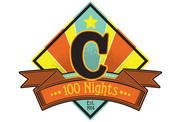 Portland's Crystal Ballroom, as an ongoing entertainment staple for the city since 1914, celebrates its 100th birthday with a 100-day-long party! From October 14, 2013 to its actual centennial-mark on January 21, 2014, daily events will tumble forth from the historic Crystal Ballroom and its second-floor space Lola's Room, with an occasional spotlight pointed at the affable setting of Ringlers Pub.
Events will feature a mix of current national acts, the return of longtime Portland favorites, showcases of up-and-comers, and themed events inspired by key eras of the Crystal past. While the series will end with a bang - a performance by the Decemberists' Colin Meloy on January 21 - the entire run of shows will be stacked with stellar talent. Additional events will pay tribute to the Crystal's amazing history, with ballroom dance extravaganzas, old-timey/Americana dances, a gypsy-themed event, soul/funk shows and psychedelic jams.
Map & Directions
Tags for this Event:
Property > Crystal Ballroom Property
Related content (tags):