Saloon & Hotel
836 N. Russell St.
Portland, OR 97227
Saloon: (503) 282-6810
Hotel: (503) 335-8900
Contact Us
Violent Psalms
Coastlands
Hart and Hare
Friday, November 29, 2013
9:30 p.m. |
$8 in advance, $8 day of show |
21 and over
Buy Tickets
Tickets on sale now!
About Violent Psalms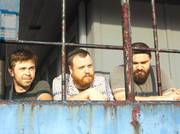 Violent Psalms play an austere mix of confessional rock music with roots in old country and proto-indie rock bands like Fugazi, Dinosaur Jr. and Built to Spill. With deeply personal songwriting as the blueprint, Violent Psalms craft abrasive pop songs steeped in reflective lyrical that call into question all aspects of the human condition.
Gritty, teeth-grinding guitar, thunderous heartbeat baselines and thoughtful and bombastic, complex rhythmic arrangements harken back to a time when songs were uncomfortably beautiful and without irony.
For the casual and serious listener alike, exploring a Violent Psalms tune is like opening an old diary you wished you hadn't. Violent Psalms ask you to sit uncomfortably in the collective pain of all things and feel your feelings deeply.
As Violent Psalms digs deeper into the depths of humanity, they don't ask, they demand that you come along for the ride - to consider the complex questions of doubt, fear, love, loneliness, despair, joy, death and life - to be sonically confronted by your deepest doubts, fears, sorrows and losses.
Violent Psalms will be touring the West Coast this spring in support of their debut LP, Slow to Speak. It will be available on 10-inch vinyl and a variety of digital formats in the spring of 2014.
Map & Directions
Tags for this Event:
Property > White Eagle
Related content (tags):