Breakfast with Poison Waters and Friends
followed by
Auntie Mame (NR) [1958]
10:30 a.m. doors; 11 a.m. buffet and show; 12:30 p.m. movie |
$19 per person, includes show, movie and breakfast |
21 and over
Breakfast with Poison Waters and Friends
Poison Waters is not just a personality, Poison Waters is an experience. Portland's famous drag queen brings a bevy of friends for entertainment while you enjoy a hearty breakfast buffet, which includes: coffee/tea/hot chocolate, fresh baked goods from Crystal Bakery, Potatoes O'Brien, sausage, smoked bacon and eggs. For an extra $12 you can treat yourself to bottomless mimosas during the show.

** SCHEDULE **
10:30 a.m. doors
11 a.m. buffet and show
12:30 p.m. Auntie Mame (NR) [1958]
About Poison Waters...
Hundreds of thousands have enjoyed the one of a kind entertainment and dynamic presence that only Poison Waters can provide. Over two decades young, the Poison Waters experience continues to grow and update itself with our ever changing times, while holding tight the unique qualities that this Community Leader has become synonymous with: Dedication, Passion, Humor, Joy and Positive Light!
Warm and welcoming, quick witted and savvy.... Poison Waters is an experience you'll not soon forget!
website:
Auntie Mame (NR) [1958]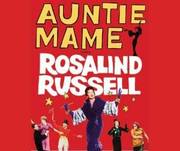 Mame is an unconventional individualist socialite from the roaring 20's. When her brother dies, she is forced to raise her nephew Patrick. However, Patrick's father has designated an executor to his will to protect the boy from absorbing too much of Mame's rather unconventional perspective.