Nosferatu [1922]
with a live score by
Mood Area 52
with
The Boat [1921]
starring Buster Keaton
--
7 p.m. doors, 8 p.m. show |
$6 advance, $8 day of show |
21 and over
Nosferatu [1922]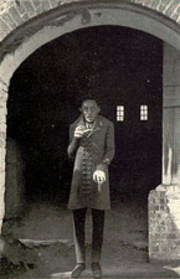 Count Orlok's move to Wisburg and brings the plague, this reveals his connection to the Realtor Thomas Hutter, and the Count's obsession with Hutter's wife, Ellen - the only one with the power to end the evil.
Mood Area 52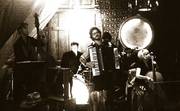 Michael Roderick founded Mood Area 52 in 1998 as a Piazzola inspired neo-tango ensemble. Since then the group has incorporated Golden Age Tango material, lounge, electronica, Eastern European influences, polyglot vocal material, Waitsian cabaret tunes, chanson and original compositions about love, loss, genetic mutations, daring women in petticoats and the ill-hatched crimes of ambitious charlatans. The band performs acoustically as a duo, trio, etc., and expands into a sextet, combining the talents of accordionist and vocalist Michael Roderick, cellist Amy Danziger, vocalist Marietta Bonaventure, guitarist Billy Barnett, bassist Sylvain Duplant, and drummer James West. Mood Area 52 also features various Oregon musicians including Dustin Lanker, Mckenzie Stubbert, Dan Schmidt, Dylan DeRobertis, Anthony Dyer, Derek Trost, Kee Zublin, Cosmos Corbin, Kelly Leguizamon, and Richard Johnson, adding horns, strings, drums, and additional vocals.
Mood Area 52 has performed with Naim Amor, Chuck Palhnuik, The Damo Suzuki Network, Rasputina, The Tin Hat Trio, Slowpoke, Amy Denio, Devotchka, David Lindley, Vagabond Opera, Heroes and Villains, and many other national acts. They perform in venues ranging from clubs to festival stages to old folks homes, accompanying burlesque troops, producing themed multimedia shows, and providing original soundtracks to golden age films.
Mood Area 52 has written and performed original soundtracks to F.W. Murnau's Nosferatu, Marks' dystopian sci-fi classic La Jete, Sunset Boulevard, numerous Buster Keaton shorts, and several independent films. Mood Area 52's composition "Furniture Migration" will be used in an upcoming animated short by acclaimed Spanish animated film director Ricard Gras, and Music from their most recent album "Guevara's Ghost" will be used in an upcoming documentary on the life of Che Guevara called "Imagen del Hombre Nuevo."
Mood Area 52 has connections with the Eugene, Portland and San Francisco tango community. Their music and interviews have been featured on Argentine Public Radio and on the Buenos Aires station Dos por Quatro. Roderick and Cosmos' collaboration, "Guevara's Ghost," a fusion of tango, lounge and glitchy trip-hop beats, is now available through Rocketboy Arts along with their previous releases "Mood Area 52" and "Nine Fancy Tangos." The group is currently working on a new album featuring original vocal compositions.
website:
The Boat [1921]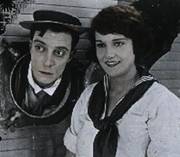 Buster's handmade boat, The Damfino, is finished and is, of course, too large to get through the basement door. He and his family go on a voyage that proves to be one adventure after another.
--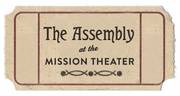 ... The Assembly
The Mission Theater – the place that first put beers into the hands of Portland theater-goers so many years ago – has proudly introduced a new line of programming, dubbed "The Assembly."
While retaining its relaxed environment, comfortable seating and matchless sightlines, the Mission is dropping its second-run movies, stepping up its food and beverage offerings, and – best of all – evolving the theater's programming dramatically. The core of The Assembly features film screenings with related lectures, interviews, and performances that bring cinema to life. And fans of Mortified, Miz Kitty and live music will be happy to learn that many of the live performances that we've all loved over the years will continue. After all, The Assembly's primary mission – engaging audiences with events that are both enriching and entertaining – has few boundaries!
So get your curiosity on and gather with us at The Assembly. There's a lot of world out there.