Clairy Browne and the Bangin' Rackettes
Blue Skies for Black Hearts
#8 of the Crystal Ballroom's "100 Nights"
7 p.m. doors, 8 p.m. show |
$12 advance, $15 day of show |
All ages welcome
Buy Tickets
Tickets on sale now!
About Clairy Browne and the Bangin' Rackettes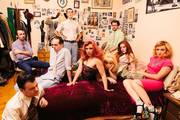 The lights go down on a smoldering red head in a tight dress.
Her smoky voice channels aching and longing as three shimmying, bouffant haired singers in sequined dresses harmonize along with her. To the left, a baritone sax wails and shudders as the soul claps rise and fall in and out of a blaze of sound. The diva in front of her band raises her eyes to the ceiling, fist clenched tightly to her heart. The dancing ends over the roar of the crowd, they stand there entranced, sweating, and waiting: a typical dramatic moment for Clairy Browne and the Bangin' Rackettes.
The Clairy Browne experience is like a vivid flashback to the sixties, one that transports you straight onto the set of Shindig but with a darker undercurrent, with shades of David Lynch or Federico Fellini piercing through.
"I want to experience joy and pain in the same moment, and bring the audience along on an emotional journey with me." Browne asserts.
Over the past three years the arresting head chanteuse in charge of nine-piece Clairy Browne and the Bangin' Rackettes has transcended humble origins from playing a residency at a local club in Melbourne, Australia to joining an international tour with Oz stadium rockers the Cat Empire, to recently signing with Vanguard Records and headlining their own US tour.
Their debut album "Baby Caught the Bus" produced by the award winning Steve Schram (Public Enemy, Cat Empire) drips with heart-wrenching doo-wop, noir theatrics, party attitude and tough-as-nails soul, the songs on the album have drawn favorable comparisons to artists as diverse as Sharon Jones, Tina Turner and Bettye LaVette.
"I want the live show and the recordings to complement each other but also stand alone as separate entities," Browne explains. "We try to record mostly live because it reflects the rawness and grit in our sound. And the music has to be something you can always dance to, be it slow and grinding, or wild and fun.
That commitment to raw emotion pays off, whether on the luridly seductive "Yellow Bird", the torchy, angst-fueled "Vicious Cycle" a homage to the fallen icons of classic soul, the drunken party clap-a-long "Frankie", the vengefully dramatic "She Plays Up To You", the title track "Baby Caught The Bus", with its fetching ah-OOH vocals and rapid-fire choreography, or "Love Letter" inspired by the film The Piano Teacher, with its mix of sensuality and menace.
In 2013 expect to see a global presence from these irrepressible, high-voltage soul revivalists, now well-known to many a beer drinker around the world thanks in part to a popular Heineken TV ad.
As is often said - it takes a village and, indeed the number of people that make up the group that is Clairy Browne and the Bangin' Rackettes is akin to a small village. It is exactly this unique concoction of nine personalities that makes the band what it is, they all come from very different places but all have a common ground, a shared love of this music.
Browne and bassist Jules Pascoe had performed together for many years but lost touch and their friendship for a while. Out of nowhere, Pascoe had a precognitive dream about Clairy and soon after they reconnected in a bar one night and Browne recalls going over to Pascoe's, a former coffin factory which the band fondly calls the Pound, i.e. a home for stray dogs, and the idea for the band was hashed out. The Pound became home to marathon jamming and writing sessions for bandleader Jules and also for baritone saxophonist Darcy McNulty and the foundation for the band was built. The bonds of friendship tightened during these formative times that reveal themselves in the band's onstage chemistry.
McNulty's baritone saxophone serves as the perfect musical counterpart to Browne's purring and wailing with his alternately smoky and pyrotechnic sound, he brings chops that have been honed from doing time in Melbourne's underground jazz scene over many years. Guitarist Peter Bee brings his carefully sharpened sleazy guitar sound, which has become signature to the band's sound. Self taught wiz-kid keyboardist Gabriel Strangio, the youngest member of the band was dropped off at the Pound by Browne's little sister and has been making bad jokes and playing creeped-out organ ever since. Drummer Nick "Ricky" Martyn had been playing for over ten years in various chamber groups, jazz combos and Turkish psychedelic folk troupes and provides the backbeat that holds the band down. Pascoe, McNulty, Bee, Strangio and Martyn are the backbone, the core of the band's sound.
Out of the shadows step the Bangin' Rackettes. Camilla McKewen, Loretta Miller and Ruby Jones. The Rackettes bring a mixture of vulnerability, toughness, sexuality and sweetness to complete the 'girl group' part of the picture with their shimmery harmonies and hypnotic stage presence.
On stage and off, they are like sisters: spontaneously bursting into song in public places, dyeing each others' hair, sharing clothes and makeup and working out together with their own unique form of Jazzercise which they fondly call Rackettercise. Before becoming a Rackette, Camilla could be found high kicking, hair flicking and tap dancing on tables around her hometown. The resident costumier is passionate about sequins, glitter, tassels and whiskey sours. Camilla is sunshine on a cloudy day. As a child lovely Loretta would fall asleep on the sofa while her mother, singer Tracy Miller known as the Gospel Queen of Melbourne, rehearsed with her R&B band in the living room. Loretta learned her stage moves at a young age from her tightly knit family of soul and R&B musicians and was often found signing with alt-country singer aunt Lisa Miller. The last Rack to join the pack was Ruby Jones, Ruby of the big hair, hair so big it needs its own hotel room! Red lipped Ruby is the most rock 'n roll of the gang, she hates funk, pretends to like jazz, lives for Jack White, red wine and all things hyper-femme.
So there you have it ladies and gentlemen, here they are: Clairy Browne and The Bangin' Rackettes!
Website:
About Blue Skies for Black Hearts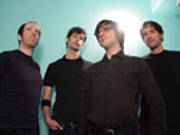 Led by songwriter and self-taught producer Pat Kearns and composed of former members of Big Jim, Man of the Year and The Very Foundation, Blue Skies for Black Hearts creates a warm and brooding mix of indie rock and the 60's-style pop of bands like The Kinks and The Beatles. These MusicFestNW and PDX Pop Now! Festival veterans layer lush vocal harmonies and intricate guitar, electric piano, and mellotron lines over songs filled with emotionally-fraught lyrics.
About #8 of the Crystal Ballroom's "100 Nights"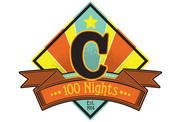 Portland's Crystal Ballroom, as an ongoing entertainment staple for the city since 1914, celebrates its 100th birthday with a 100-day-long party! From October 14, 2013 to its actual centennial-mark on January 21, 2014, daily events will tumble forth from the historic Crystal Ballroom and its second-floor space Lola's Room, with an occasional spotlight pointed at the affable setting of Ringlers Pub.
Events will feature a mix of current national acts, the return of longtime Portland favorites, showcases of up-and-comers, and themed events inspired by key eras of the Crystal past. While the series will end with a bang - a performance by the Decemberists' Colin Meloy on January 21 - the entire run of shows will be stacked with stellar talent. Additional events will pay tribute to the Crystal's amazing history, with ballroom dance extravaganzas, old-timey/Americana dances, a gypsy-themed event, soul/funk shows and psychedelic jams.
Map & Directions
Tags for this Event:
Property > Crystal Ballroom Property
Related content (tags):