Oktoberfest at St. Johns
Water Tower
Massy Ferguson Trio
Haldeman's Oom-pah Boys
Joe Mishkin "The Balloon Guy"
Face Painting by Amanda Killoran
All day! Music starts at 2 p.m. |
Free |
All ages welcome
Oktoberfest at St. Johns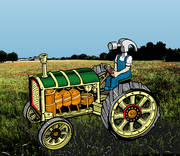 When you imagine Oktoberfest, what comes to mind? Oom-pah bands, loads of beer, bratwurst and hamburgers and more! One and all are welcome to participate in the German celebration that is Oktoberfest! Begun as a wedding party for Germany's Crown Prince Ludwig and Princess Therese in 1810, today Oktoberfest is celebrated all over the world with music, singing, dancing, beer, food and revelry.
** SCHEDULE **
2–3:30 p.m. · Haldeman's Oom-pah Boys
3–6 p.m. · Ballon Art by Joe Mishkin
3–6 p.m. · Face Painting by Amanda Killoran
4–5:30 p.m. · Massy Ferguson Trio
6–8 p.m. · Water Tower
Water Tower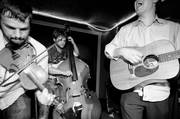 Hailing from Portland, the Water Tower Bucket Boys perform their hard-driving, soul-saturated traditional and original music with tight vocal harmonies and powerful instrumentals. The energy from their lightning stage performances will literally plow through you as you are transcended to another place and time.
The Water Tower Bucket Boys got their start busking on the street corners of Portland and enlivening local square dances. Honing their sound as a solid dance band, playing up and down the West Coast, as well as in the east, the boys have perfected their unique style, drawing from classic bluegrass, old-time, and country songs. Their original repertoire, heavily influenced by blues and country, distinguishes them from other string bands. This one-of-a-kind sound has been influenced and shaped by almost every genre of American music. Just like the traditional songs, their originals works will take you on an entertaining roller-coaster of emotions, while still maintaining that high-lonesome integrity. Whether busking on the streets of downtown Portland or traveling around the world, their infectious love of the music spreads far and wide.
video:




website:
Joe Mishkin "The Balloon Guy"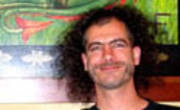 With his incredible balloons, his awesome juggling, his spirited music playing and his daring unicycling and fire juggling, Joe is sure to please your friends, your neighbors, your co-workers, your boss, and you, too!!