Saloon & Hotel
836 N. Russell St.
Portland, OR 97227
Saloon: (503) 282-6810
Hotel: (503) 335-8900
Contact Us
Mexican Gunfight
Kerosene Dream
9:30 p.m. |
$8 in advance, $8 day of show |
21 and over
Buy Tickets
Tickets on sale now!
About Mexican Gunfight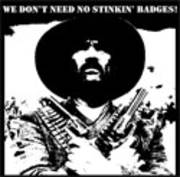 Mexican Gunfight is a rock band with a big and easy notion of what "rock" can do. Stylistic influences abound: blues grit, country lyricism, the soulfulness of gospel, a jam thrown in ... even tinges of Latin and jazz dot their sonic landscape. But the Gunfight doesn't lay claim to being a blues, country or gospel act ... they're really just a rock band.
The band's instinctive ability to play seamlessly together is perhaps one of the first things to impress, and betrays the band's experience: Mexican Gunfight's personnel have wandered the U.S. tour routes together for nearly a quarter century, in a half-dozen different outfits, thousands of shows and in hundreds of venues (not to mention a variety of interesting vehicles). Perhaps most notably, their incarnation as The Renegade Saints got regional acclaim and national attention back in the early '90s, but even then they were too rockin' to be a jam band, and definitely too free-form to be grunge.
Since that time the members of Mexican Gunfight -- individually and collectively -- have been notable fixtures in the NW music scene; there's a high probability that you have seen at least one of them playing at a bar, club, theater or festival over the last several years.
The Gunfight pays homage to acts as diverse as Neil Young, Hothouse Flowers, Willie Nelson, Santana, Glen Campbell and Little Feat while offering just as much stylistic variety in its originals. They borrow songs from their "ancestral" incarnations, including the Saints but also Kerosene Dream, The Strangers, Dixon, Tremor Guild and Nine Days Wonder. (Bassist Dave Coey -- a prolific songster in all of his bands since the '80s -- has recently popped out a few new tunes that the band quickly worked over live a few times and brought into the studio.)
The spirit behind Mexican Gunfight's music is - simply put - to consider everything fair game and have a blast rocking it up.
Al Toribio, guitar and vocals
Dave Coey, bass and vocals
Ned Failing, drums and vocals
Mike Walker, piano and organ
website:
About Kerosene Dream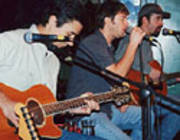 Kerosene Dream is comprised of Bart Ferguson (lead vocals / harmonica); Dave Coey (lead vocals / acoustic guitar); and Alan Toribio (acoustic, electric, and bottleneck guitars / vocals). In early 1996 when their previous bands dissolved, Ferguson called Coey and prodded: "remember that side project? Let's do it for real!" After a few exploratory gigs they began playing around Portland and released an acoustic EP in October of 1996. Soon thereafter, they added drums and bass. After that, the group evolved into a compelling acoustic-pop-jam-rock quintet. They released their second album, From the Sundown Sky, in November 1997 and their third, Such is Life, in September of '99. Kerosene Dream took a break in 2001 to pursue personal projects. Bart Ferguson released a solo album, Salvation Road, and Dave Coey brought together members of Kerosene Dream to form The Tremor Guild, who also released an album. In 2005, the trio of Coey, Ferguson and Toribio decided to regroup and play the music they love.
Map & Directions
Tags for this Event:
Music:
Groove/Jam
Rock
Property > White Eagle
Related content (tags):