Come have fun in school... for once...
5736 N.E. 33rd Ave.
Portland, OR 97211
Local: (503) 249-3983
Elsewhere: (888) 249-3983
Contact Us
Back to School: 98th Birthday Celebration
Ants in the Kitchen
Ashleigh Flynn
The Jake Blair Band
Everything's Jake
The Alphabeticians
Saturday, October 12, 2013
12 noon 'til 10 p.m. |
Free |
All ages welcome
About Back to School: 98th Birthday Celebration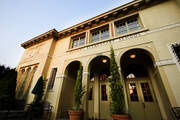 Come out to help us party down with live music, food and drink specials, kids' silliness and more.
As part of the day's celebration, Kennedy School will also offer tours of the brewery on site; and spirits and coffee tastings. Likewise, Portland Parks and Recreation will be on hand in the community garden on the property to give tours between 12 noon and 3 p.m.
** SCHEDULE **
Noon
The Alphabeticians
2 p.m.
Everything's Jake
4 p.m.
The Jake Blair Band
6:30 p.m.
Ashleigh Flynn
8:30 p.m.
Ants in the Kitchen
About Ants in the Kitchen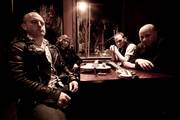 Ants In The Kitchen was formed in late 2010 by Geoff Metts (Western Aerial) on vocals and guitar and Dain Ryan (Stone In Love, Dirty Little Fingers) on bass. "We had played shows together in separate bands and had talked about how it would be fun to work on a project together," explains Ryan. "We came up with a great set of material we'd always wanted to play and decided to call some friends and start a band". Rounding out the lineup with Alex Shakeri on piano and Jolie Clausen (Carlton Jackson, Duffy Bishop) on drums, the group has developed a unique sonic brand.
Having played some of the biggest stages and festivals in the Northwest in various other bands, the members of Ants In The Kitchen perform with the swagger and confidence of seasoned pros. Their high energy set list includes a diverse collection of favorites ranging from Robert Johnson and Sam Cook to Tina Turner and the Rolling Stones. "We play a wide variety of songs but we put a twist on them that is all our own making it a cohesive collection.
For the Rock Of Ages event the band has called in a number of special guests to add to the excitement. "It gives us a chance to play music we love with people we like to work with and it raises the energy for everybody". Special guests include Brian Harrison on guitar, Doug Smith on sax and back up singers known as the 'Kitchenettes'. "We've got a big show planned and decided to go big with the instrumentation too.
website:
About Ashleigh Flynn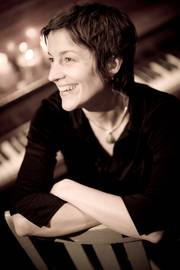 Ashleigh Flynn's finest album, American Dream, is alive with stories about down-and-outers, young and old, all still hopeful, as is Flynn, that they can achieve the American Dream.
From Kentucky, Ashleigh Flynn grew up foot stomping along the Ohio River as the steamboats and barges made their way to the muddy Mississippi. An electrifying performer blessed with unbridled charisma and the voice of angel, Flynn has released two previous full-length studio efforts, Chokecherry (2002) and Ashleigh Flynn, self-titled (1999). The Village Voice regards Ashleigh as "A darling of the NW Americana scene", writing: "Flynn adds a smoky soulful voice ... marrying styles such as bluegrass to pop."
Flynn has traveled near and far, touting her tunes, and amassing new fans in markets all over the US & Europe - including month long "up and comers" residencies at The Living Room and Pianos in New York City, and Toad in Cambridge, and a few trips across the pond.
website:
About The Alphabeticians
The Alphabeticians, Mister Hoo and Mister E, have been best friends since their salad days in the mid 80s. They formed The Alphabeticians after they both became fathers, heard some of the music that was promoted as "Kid's" music and thought, "We can do better than that." They combine humor, clever songs, interactive elements and an all around great stage show to entertain people of all ages. Adults have as much fun as kids at a typical show. They have been performing as The Alphabeticians since 2009, but they have an estimated 47 years of combined experience playing and performing music, and have performed more than 470 shows.
Mister E (Eric Levine) will be 47 in one year, but his love of the alphabet can be traced back to his early kindergarten finger-paintings, formerly displayed in the Frigidaire wing of the Levine Museum. A high school English teacher by day, Mister E's rock and roll legacy includes Portland 90's sensation The Willies, as well as Fuzzball, Danny and the Originals, and the apocryphal Dry Water (Sand).
Mister Hoo (Jeff Inlay) is just just shy of 47 and, though familiar with the alphabet since childhood, has only grown to love it in recent years. A father of 2 and resident of Oregon City, he has been in more bands than he can count (although he claims he can only count to 3), but is most well known for playing in Portland 90's sensation Hummingfish, and is least well known for his time in Southern California punk band the Mendicant Sauciers. He's also confident he was not in Led Zeppelin. Mr. E and Mr. Hoo were also featured in The Fundada Five, Lump of Food and The _ Experience.
Website:




Facebook:
Map & Directions
Tags for this Event:
Events > McMenamins Celebrations
Music:
Singer/Songwriter
Americana
Property > Kennedy School
Related content (tags):