3702 S.E. Hawthorne Blvd.
Portland, OR 97214
Pub: (503) 467-7521
Movie Line: (503) 249-7474 x1
Contact Us
Book Release Party
for
"The Tao of Chip Kelly"
followed by
Monday Night Football
Monday, September 9, 2013
3:30 p.m. book relase party; 4:10 p.m. Eagles vs. Resdskins; 7:20 p.m. Texans vs. Chargers |
Free |
21 and over
About "The Tao of Chip Kelly"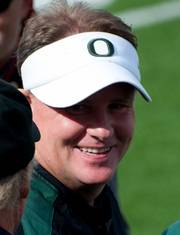 On September 9th, 2013, Chip Kelly will coach his first NFL game since leaving the Oregon Ducks, leading the revamped Philadelphia Eagles against the Washington Redskins and their star quarterback Robert Griffin III in a battle of high-powered read-option offenses. This game will be the first half of a special Monday Night Football season premiere doubleheader, with air time at 4:00pm and kickoff at 4:10pm PST.
Before the game, Portland author and football columnist Mark Saltveit will host a book release party for The Tao of Chip Kelly, his well-reviewed and best-selling book about Kelly's football and management philosophies. An open discussion with author Saltveit will follow the game. Signed books will be available for sale.
The Tao of Chip Kelly is available at all of the Oregon Ducks Stores, at Powell's Books, and at the Multnomah Athletic Club's M-Porium, as well as online at www.chipkelly.tv.
About the Book
Chip Kelly lit up the football world as the coach of the University of Oregon Ducks. With their gambling defense that led college football in takeaways, and a lightning-fast no huddle offense averaging 48 points a game, the previously unheralded Ducks went 46-7 during Kelly's four year stint.
What is behind Chip's astonishing success? A lot more than just plays and strategies. As Kelly starts to apply his talents to the NFL's Philadelphia Eagles, this book looks at the remarkable philosophy and innovative management strategies that Chip Kelly uses to mold his teams – strategies that every leader or business manager can use.
About the Author
Mark Saltveit writes the weekly "Chip Kelly Update" for FishDuck.com (a highly reputed Oregon Ducks strategy website) and articles for Philadelphia Eagles blogs including Bleeding Green Nation, IgglesBlitz.com, and Eagles Blog. He appears frequently on radio and TV shows as well as live comedy appearances.
Author Website:
Map & Directions
Tags for this Event:
Property > Bagdad
Related content (tags):