30340 SW Boones Ferry Rd
Wilsonville OR 97070
Phone: (503) 427-2500
Fax: (503) 427-2519
Contact Us
Sponsored by Wilsonville Library Foundation & Wilsonville-Boones Ferry Historical Society
"Written in Stone: Stories of Wilsonville's Dearly Departed"
Wilsonville History Night
presented by
Charlotte Lehan
Former Mayor of Wilsonville
and President and Webmaster of Pleasant View Cemetery
Tuesday, October 29, 2013
5 p.m. doors; 6:30 p.m. event |
Free |
All ages welcome
About "Written in Stone: Stories of Wilsonville's Dearly Departed"
Wilsonville has no cemeteries, but residents have been living (and dying) here since the 1840s. Where are they? Find out about our local cemeteries and the stories told in stone about their inhabitants.

Wilsonville's former mayor, local historian, and current president of the Pleasant View Cemetery Association will discuss what you can learn about local history from our area cemeteries. We will also cover cemetery iconography (what all those symbols on gravestones mean), the basics of cemetery care and conservation, a little about dousing, and we will touch on a few of our ongoing mysteries.

About the Speaker
In 200 years, Wilsonville Historians will be talking about Charlotte Lehan, her life, and her impact on this community. She is a 4th or 5th generation Wilson… villian, streets are named after her and her family. She was born and raised in Wilsonville, and has lived here most of her life. She was mayor of Wilsonville through much of the late 1990's and 2000's and much of this city bears the stamp of her influence. She has been Chair of the Clackamas County Board of Commisisoners, is a member of the Wilsonville Boones Ferry Historical Society, and is currently president and webmaster of Pleasant View Cemetery.
About Wilsonville History Night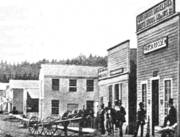 Join us for beer and history, Co-Sponsored by the Wilsonville Public Library and Wilsonville-Boones Ferry Historical Society, the Oregon Encyclopedia, and McMenamins, in which you'll hear lively local and regional history while you enjoy a frosty pint or two of handcrafted ale.
Wilsonville Public Library:




Oregon Encyclopedia Website:
Map & Directions
Tags for this Event:
Events > History
Property > Wilsonville Old Church & Pub
Related content (tags):