at Crystal Hotel
303 S.W. 12th Ave.
Portland, OR 97205
Local: (503) 972-2670
Elsewhere: (855) 205-3930
Contact Us
Star Anna
w/guest Tyler Stenson
Wednesday, October 2, 2013
7 p.m. |
Free |
21 and over
About Star Anna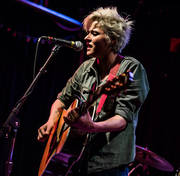 Star Anna is a singer-songwriter from a dusty old wind-swept rodeo town in the middle of Washington State called Ellensburg. It was there that Star first began playing music, first as a drummer in a punk rock band, and where she later found her true calling with her voice, words, and her acoustic guitar. Star writes music that comes from the heart, from hard and sometimes dark places, that grabs hold and burns like a snake bite. Once she established herself with her band, the group brought forward a truly unique brand of country-tinged lonesome rock and roll.
Star and her phenomenal band, The Laughing Dogs (Justin Davis, guitar; Frank Johnson, bass; Travis Yost, drums), have been traveling hard and spreading joy to crowds all over the western United States for a little over three years now. They are regularly referred to with some variation of The Next Big Thing (explicitly on the cover of the Jan 2009 issue of Seattle Sound Magazine) and are eager to let each new audience learn why. The shows are intense and powerful, the songs deep and true, the band is hot and Star?s voice will break your heart.
Star Anna and the Laughing Dogs released their most recent album ?The Only Thing That Matters? in April, 2009 and have since garnered international critical acclaim. As KEXP programming director Don Yeats writes: "Ellensburg?s Star Anna debuted last year with Crooked Path, a promising album of rootsy alt-country, and while the roots influence is still there on her 2nd album, Star and her band have cranked up the electricity, giving her emotionally scarred songs an additional rock ?n? roll punch. Her throaty, aching vocals sound better than ever, and the band earns their co-billing with tight, tough-sounding accompaniment. Crooked Path was a great beginning, but this one packs a mightier wallop."
website:
About w/guest Tyler Stenson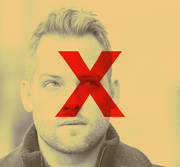 Fearing no metaphor and drawn instinctively to the bright flame of the American West, Stenson is a fire builder. He pits soft Americana against tender, billowy pop until it sparks, fanning the flame with his gusty, crackling vocals for warmth. ~ Mark Stock - Willamette Week
Born in Lander, WY and raised in Oregon, Tyler Stenson (29) is a bold songwriter that draws profound influence from his roots in the humble West. Reminiscent of a pining Western poet, his music is straightforward but elegant at its core. With his acoustic guitar navigating in shotgun, Stenson's rich lyrics grip the wheel; white-knuckled and swollen with natural imagery and stark confessions.
"As long as there has been a song, I've felt it in my bones. It was a gift from my dear mother and her father who passed on - yes, a long line of the Music Makers and of Soldiers for the Muse." Tyler Stenson - Fight 'Til Dying Day
Raised a vocalist by his musical mother and a perfectionist by his father the architect, Stenson is a lifetime student of craft and calculated creativity. His first guitar was a gift from his grandmother during his senior year of high school and after teaching himself the raw basics of folk and country, he naturally penned his first song in the early months of 2000 - Her Song. A definitive moment on this great timeline, in the few years to follow he has written and recorded seven albums and fearlessly developed his passion for song.
"If we're not growing, we're staying the same. So, I'll continue to change and stretch myself day-to-day. We're entitled to change because we grow." Tyler Stenson - We Grow
As front man and songwriter for his two bands Lander and Rhetoric Tuesday, Stenson played the Oregon college circuit. Later he put band-oriented rock-n-roll to rest and tackled the burgeoning Portland scene as a solo artist. His authentic ways were well received as he was twice-named the Portland Songwriters Association Performing Songwriter of the Year (2007 and 2008).
"Who was I to leave Oregon when the rearview facing West held all I loved? When it becomes October, I might become my own fall, but might never know my cards until I call." Tyler Stenson - Leave Oregon
By October of 2009, it seemed Stenson had conquered every venue in his hometown and decided to leave what was comfortable and take his talent to a bigger stage - the Music City. Now based in Nashville, he's deep in the Lion's Den and closer to the fire than ever before but, bearing the Torch of the West, he's one step closer to the goal that is the dream.
"Getting there is as endless as it seems. That's why I'm sitting here in Tennessee - with the words but no one to call - because somebody's gonna make it - but it better be us all." Tyler Stenson - Better Be Us All
In an industry where content has taken a backseat to production, Stenson maintains that lyric is king. The world craves authenticity and his expression is just that; putting lumps in throats and attracting a train of followers who find a piece of themselves in the sincerity of his words. It may be a steep hill to climb but his endeavors are genuine and he'll no doubt make his mark because no one sums up the human existence in such a way as Tyler Stenson and his words.
"Don't whisper softly the things that you want loudly to be - be like a wave - leave impressions on the sand." Tyler Stenson - Whistle Stop
Map & Directions
Tags for this Event:
Music:
Americana
Rock
Property > Crystal Hotel
Related content (tags):