at Crystal Hotel
303 S.W. 12th Ave.
Portland, OR 97205
Local: (503) 972-2670
Elsewhere: (855) 205-3930
Contact Us
Ed and the Red Reds
w/guest Jennie Wayne of John Heart Jackie
w/guest Kenny Feinstein of Water Tower
The Jennie & Ed Set --a night of classic country duets
Friday, September 27, 2013
7 p.m. |
Free |
21 and over
About Ed and the Red Reds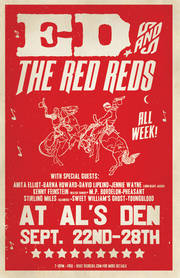 "Country 'n North-Western" music, as Ed calls it, is about storytelling. Combining 60's psych-rock, old-time, classic folk, outlaw country and modern influences, E&TRR is a true American mutt, combining many different elements to make something wholly original.
About w/guest Jennie Wayne of John Heart Jackie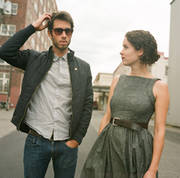 From NPR:
Never underestimate the power of nostalgia, especially when it's wrapped in a package as sweetly pretty as John Heart Jackie's "You've Been on My Mind." The Oregon duo's first full-length album, We Are Gold Mounds, is full of languidly folky pop songs that maximize the effect of Peter Murray and Jennie Wayne's sweet vocal interplay.
Murray corners the market on melancholy throughout the record, while Wayne's crystalline vocals can't help but inject a little sunshine into the mix. She takes the lead in "You've Been on My Mind," a slow-moving but upbeat shuffle that sings the praises of a relationship's home team: "Even when you're on the road, I wonder could I ever be yours," she croons. It's a pragmatic postcard to a faraway person of interest, but along the way, it can't help but paint a rosy picture.
Here's a taste:
Map & Directions
Tags for this Event:
Property > Crystal Hotel
Related content (tags):