at Crystal Hotel
303 S.W. 12th Ave.
Portland, OR 97205
Local: (503) 972-2670
Elsewhere: (855) 205-3930
Contact Us
Run On Sentence
w/guest Pancake Breakfast in their FINAL show
Friday, September 20, 2013
7 p.m. |
Free |
21 and over
About Run On Sentence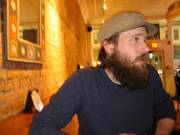 Based on the songs of Dustin Hamman, Run On Sentence involves a rotating cast of musicians and could easily be a one-man show or a 12-piece extravaganza.
Dustin's musical tastes span many genres but have always been rooted in folk. He had an early fascination with American Indian singing and early punk rock...later he explored the blues and the origins of country, eventually gaining interest in early jazz, swing, and big band. During a short life in Florida he also discovered Latin rhythms and became intrigued by Flamenco and classical guitar.
Although band members come and go, William Joersz (double bass) has been a regular member and major influence on the music. Other Portland artists such as John Vecchiarelli, Nick Jaina, Loch Lomond, Heroes and Villains and Shoeshine Blue have donated band members to the project and have been tremendously influential.
About w/guest Pancake Breakfast in their FINAL show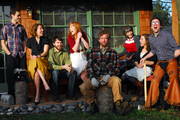 Portland's Pancake Breakfast is a foot-stomping 9-member roots act that really puts on a show! Big sing-along choruses, tall tales, and old-time vaudeville antics define their audience-inclusive approach to making music.
This folk outfit was born under some Ponderosa pines in the Cascade Mountains. What started as a barn recording-project has quickly grown into a live circus of song featuring Mike Midlo and The Pancake Breakfast Singers choir. This band is like watching an old episode of Hee-Haw on your grandma's VHS deck ... or inviting Lawrence Welk and Woody Guthrie over for a Sunday supper sing-along.
Pancake Breakfast's earliest fans recall the Kimball Swinger 400, a 1977 console organ with a library of canned beats and rhythms that originally launched Midlo from his barn in the mountains to the bubbling musicland of Portland, Oregon. Since then, a choir of musicians, dancers and hand-clappers has joined in that at times includes Pete Bosack, Sarah Fox, Julie Gliniany, William Joersz, Steph Lawson, Christa Mrgan, and John Whaley.
Since October 2007, Pancake Breakfast has released three EPs, played dozens of shows, been invited to Pickathon and Sisters Folk Festival, and even opened for the legendary Leon Redbone at Portland's Aladdin Theatre.
Map & Directions
Tags for this Event:
Music > Americana
Property > Crystal Hotel
Related content (tags):