Back to school in Bend!
700 N.W. Bond Street
Bend, OR 97703
Local: (541) 382-5174
Elsewhere: (877) 661-4228
Contact Us
2014 New Year's Eve at Old St. Francis School
with
Live Music by
Jeff Crosby & The Refugees
Worth
Tuesday, December 31, 2013
9 p.m. |
Live music $5 at the door; lodging packages sold out |
21 and over
About 2014 New Year's Eve at Old St. Francis School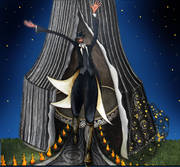 Make it a night to remember by booking one of our exclusive overnight packages featuring the sounds of Jeff Crosby & The Refugees in the Theater, plus more live music from Worth in Father Luke's Room.
While overnight lodging is sold out, tickets for just the music are also available for $5 at the door.
About Jeff Crosby & The Refugees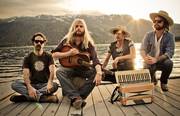 Jeff Crosby is a 25 year old songwriter/singer, and multi-instrumentalist transplanted from Idaho to Los Angeles.
Although you'd never know it from his playing, Crosby wasn't born with a guitar in his hands. When Jeff first picked up a guitar at the age of 14, he knew from that first touch of the strings that he was in love. He began jamming with the local mountain folk on the back porches of Donnelly, ID, and by the following year, he had played it so much that he had worn the frets off. You can still hear those "back porch" influences in his country infused rock music today.
Crosby's performing chops were cut in his late teens, when he would sneak (sometimes in vain) into every smoke filled bar from Boise to Portland to get gigs. These days of well spent youth paid off, and by the age of 21, Crosby was fronting psych-rock jammers, Equaleyes, and touring like a fiend.
By 2010, Jeff was ready to switch gears, and showcase his songwriting skills. 2011's self-titled LP, Jeff Crosby, is a gem that invokes the greatest singer/songwriters. Performer Magazine called it, "The right addition to any singer/songwriter fan's collection." Crosby's rich, hook filled music and his smooth vocals combine with poignant lyrics to make each track its own gem.
His new EP, Homeless and the Dreamers is a five song, introspective journey of self discovery that charts Jeff's changes in latitude, the culture shock of moving to L.A. from small town Idaho, friends and lovers that were left behind, and the discovery of new ones. Stand out songs include the title track which charts Jeff's journeys and the dreams that got him there, as well as the dreams of the people he met along the way. There's also the gorgeous "Silent Conversations," which was written while standing in the doorway of a catholic church in Colombia during a torrential downpour.
Look for Homeless and the Dreamers to drop on July 4th. A special EP release party will take place at the Annual 4th of July Celebration in McCall, ID. Crosby will be touring in support of the new album throughout the summer and the fall with his band The Refugees (Will Prescott - drums, Daniel "The Hawk" Blumenfeld - keys, and new addition, Jeff's brother, Andrew on bass). Of course, Jeff and crew will be back in Idaho for his August 3rd & 4th Idaho Down music festival at Brundage Mountain Resort in McCall, ID, both with Equaleyes, and as Jeff Crosby & The Refugees.
Website:
About Worth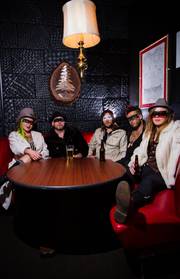 Just one year after the critically acclaimed release of 'Six Foot Soul', Portland Oregon-based folk-soul alchemist WORTH is hitting the road again with a brand new album and an electrified 5 piece band.
WORTH's sophomore record - 'Two'- is the 2nd concept piece in a trilogy titled 'The Identity Tryptic' which he plans to complete by late 2014. Like the first album, 'Two' takes the listener on an epic journey through as wide a range of emotions as it does genres. 24 tracks in all (12 songs and 12 interludes), the album was recorded mostly live to 2" tape in just two and a half weeks. Psychedelic interludes blend vocal samples over abstract improvisations and act as segues tying together a narrative in song. The compositions are simultaneously classic and modern; the sound is rich, warm, and alive.
The 2013 fall tour schedule will bring WORTH's uniquely Portland style of "bohemian blues hop" to many new markets across the Western US in Sep./Oct. (OR, WA, ID, MT, UT, CO, CA) as well as central Europe in November (Austria, Germany, Switzerland, Czech Republic). In anticipation of the release of 'Two' on Sept. 14th this year, WORTH will be putting out the first single 'Jackie Girl' in August. A full production music video is also in the works.
Since the dissolution of his prior full band project NIAYH (Now Is All You Have) in 2011, WORTH has played at festivals like What The Festival and Waterfront Blues Fest (OR). He has shared the stage with Allen Stone, Lynx, March 4th Marching Band, Marv Ellis, SaQi, Russ Liquid, Lila Rose and has been a repeated cast member in Portland's yearly White Album Christmas show. OPB's Oregon Art Beat recently did a full feature on him.
Facebook:




Website:
Map & Directions
Tags for this Event:
Events:
McMenamins Celebrations
Holidays
Music > Americana
Property > Old St. Francis School
Related content (tags):