An escape into the extraordinary
3505 Pacific Ave.
Forest Grove, OR 97116
Local: (503) 992-9533
Elsewhere: (877) 992-9533
Contact Us
2014 New Year's Eve at Grand Lodge
The Twangshifters (Lodging package only)
with Free Music by
John Bunzow
McDougall
Tuesday, December 31, 2013
9 p.m. |
Free Music with John Bunzow and McDougall; Lodging packages with music by Twangshifters start at $250 per couple |
21 & over for Twangshifters and McDougall; John Bunzow all ages
About 2014 New Year's Eve at Grand Lodge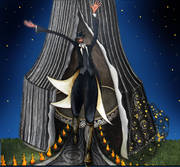 Make it a night to remember by booking one of our exclusive overnight packages and partying with raucous and lively The Twangshifters (21 & over).
Free music at the Garage Door with John Bunzow (all ages) and at Pat's Corner with McDougall (21 & over).
About The Twangshifters (Lodging package only)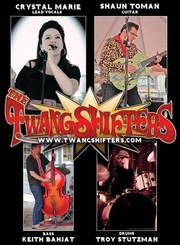 On a dark night in October of 2009, The Twangshifters played their first few notes together in a dark barn somewhere behind Hillsboro, Oregon. The barn promptly imploded, and once they climbed out of the wreckage, they realized that nothing could contain them. They've been rocking the Pacific Northwest ever since -- the show gets bigger and brighter every time. From Portland to Salem to Seattle -- not to mention the whole darned globe via a live internet broadcast for the "30 Hour Day" event from Portland's Pioneer Square, the Twangshifters have hit the Pacific Northwest scene with a mighty sound and fury, and are showing no signs of letting up.
Facebook:




Website:
About John Bunzow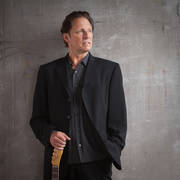 Portland, Oregon native John Bunzow has been called one of the finest writers and roots-musicians on the current music scene. Producer Pete Anderson (Dwight Yoakam, Meat Puppets, Steve Forbert) said he is "... without doubt the best artist I've heard in recent times." Chicago Tribune columnist Jack Hurst cites Bunzow with mixing "the rootsy with the revolutionary."
Bunzow's new CD, Darkness and Light, on Sideburn Records, was recorded live in a friend's basement studio. "I was itching to get back to my roots music," Bunzow says, "That's the vibe I wanted - all one-take vocal and guitar parts - just as they came down live. Just like we do out in the clubs."
John started playing professionally while attending the University of Oregon at Eugene, and following college; he spent 15 years playing clubs throughout the northwest United States. In the process, his fusion of roots rock and blues garnered an extensive fan following.The end result is that Bunzow's eclectic music is a melting pot of influences ranging from Dylan to Elvis Costello to Merle Haggard and Tom Waits.
website:
About McDougall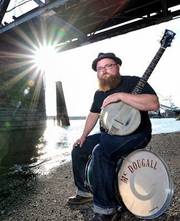 With his imagination often dwelling in the very real places of his past and present, as well as in the possible future, McDougall's songs may very well seat you by a coffee-can fire in the middle of a dry California river-bed, pull you up onto a freight train in the lush spring-time of the Pacific northwest, raise your voice in hymns with the entire family on a Thanksgiving afternoon, or haste your good-bye to civilization as you know it, as you ramble on with all you possess on your back.
Fact, fiction, and a little in between, McDougall carries on the relevant tradition of oral history and folklore, making it a part of everyday life and sharing it with those around him. Inspired by the word of God, his family, friends, fellow workers and fellow travelers met along the way, McDougall wishes to keep to the unwritten rule of using what was left by those before while leaving something of your own for those who will come after.
Facebook page:
Map & Directions
Tags for this Event:
Events:
McMenamins Celebrations
Holidays
Music:
Americana
Singer/Songwriter
Property > Grand Lodge
Related content (tags):