Saloon & Hotel
836 N. Russell St.
Portland, OR 97227
Saloon: (503) 282-6810
Hotel: (503) 335-8900
Contact Us
Blue Skies for Black Hearts
Throwback Suburbia
Wild Bells
Halfway to St. Patrick's Day
Saturday, September 14, 2013
9:30 p.m. |
$8 in advance, $8 day of show |
21 and over
Buy Tickets
Tickets on sale now!
About Blue Skies for Black Hearts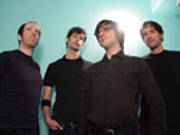 Led by songwriter and self-taught producer Pat Kearns and composed of former members of Big Jim, Man of the Year and The Very Foundation, Blue Skies for Black Hearts creates a warm and brooding mix of indie rock and the 60's-style pop of bands like The Kinks and The Beatles. These MusicFestNW and PDX Pop Now! Festival veterans layer lush vocal harmonies and intricate guitar, electric piano, and mellotron lines over songs filled with emotionally-fraught lyrics.
About Wild Bells
WILD BELLS
...is a new band, formed by three Portland music scene veterans in 2011. And while the members may be a little older than your average boy band, together they create a fresh new sound: a unique and appealing mix of powerpop, roots rock and psychedelia.
Pete Ficht on guitar, bass and keyboards has played in a number of bands in New Orleans and Portland, including the House Levelers, the State Flowers and King Black Acid. Drummer Scott Pettitt has long been an in-demand drummer around Portland, lately recording with The Dimes and playing with the State & Standard. Lead guitarist Craig Stahr has played in numerous bands over the years, most recently unleashing his guitar firepower with the Quags and Mission 5.
Wild Bells is proud to announce the release of their first recording, the digital single "Curtain Call/Never Learn (Not to Learn)". It was recorded by acclaimed local producer Tony Lash at Mandible Studio and the Magic Closet in Portland in early 2012. Ficht and Lash had recorded together twice before, with Joy Pop Turbo and the State Flowers.
Singer/songwriter Ficht burst out of New Orleans with his first band the House Levelers in the early 90's. Their wild live shows and folk-punk sound brought them national notoriety with press coverage in Sassy, USA Today and MTV and appearances at SXSW and Jazz Fest. Their 1991 album No Definitions was produced by the late, great Memphis producer Jim Dickinson (Big Star, The Replacements).
After the demise of that band, Ficht moved to Portland in 1995 and played with Noisecandy, Joy Pop Turbo, the State Flowers, King Black Acid and National Anthem. The much-loved State Flowers released the Third of July album in 1999 and featured the songs of Ficht and co-founder Corrina Repp (now of Tu Fawning). Ficht also appeared on the King Black Acid albums Loves a Long Song and The Mothman Prophecies soundtrack. Between 1997 and 2001 he played NXNW/MusicFest NW five times with four different bands.
But long years of struggling in the indie rock trenches had taken their toll and Ficht slowly moved away from music as he started a career and family. But by 2010 he was determined to finally get a new project going. A chance encounter with Scott Pettitt, who had briefly played with Ficht fifteen years earlier in Noisecandy, got the ball rolling.
Pettitt, a Portland native, had spent the last few years as a reliable drummer around town, playing gigs and recording with a variety of bands (including Ezza Rose, Alice Blue, the Dimes, the State & Standard and Kindie rocker Mr. Ben), but was looking to settle down with his own band.
After much searching, they were delighted to find guitarist Craig Stahr on (appropriately enough) Craigslist. Stahr, originally from Salem, had been playing guitar in bands since the 80's, but had more recently found acclaim in Portland as the red-hot guitarist with the Quags and Mission 5.
Stahr had joined the Quags in 2003, releasing two highly regarded albums (Out in the Community and Devil's Music) over the next two years. He then moved on to join the roots-rocking Mission 5 in 2005, recording The Other Side and Search for a Perfect Life, but heavy touring on the West Coast and Europe had left him burnt out and ready for a break. After a couple of years spent recharging his batteries, he joined Wild Bells in the summer of 2011.
A series of bass players came and went (and sometimes came and went again). But their set list was overflowing and they decided to forge ahead without a permanent bassist.
In October 2012 they finally found the missing link when they were joined by Sean Tichenor on bass. Sean, like Pete, had spent time in King Black Acid. He had also played with numerous bands over the years, including James Angell and L.A.-based Stimulator, with whom he recently opened tours for Duran Duran and the Go-Go's.
WIld Bells plan to record a full album with producer Tony Lash in early 2013.
About Halfway to St. Patrick's Day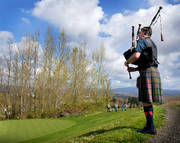 OK, we know, it's kind of a wacky idea - no one celebrates halfway to St. Valentine's Day, right? (Although, now that we think about it... nahhh...)
But, regardless, we love St. Patrick's Day and we love being halfway to it! So let's have some drinks, hear some music and have a full-on good time together. Because why not?
** Food & Drink Specials **
Irish Fries, Irish Reuben, Iced Irish Coffee and Irish Stout!
Plus Irish-tinged revelry at all of our joints!
Map & Directions
Tags for this Event:
Events > McMenamins Celebrations
Property > White Eagle
Related content (tags):