Saloon & Hotel
836 N. Russell St.
Portland, OR 97227
Saloon: (503) 282-6810
Hotel: (503) 335-8900
Contact Us
Chris Juhlin and the Collective
Camping in a Cadillac
Kim DeLacy
Friday, September 13, 2013
9:30 p.m. |
$8 in advance, $8 day of show |
21 and over
Buy Tickets
Tickets on sale now!
About Chris Juhlin and the Collective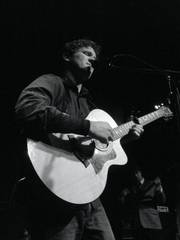 This Washington-born songwriter takes the chilled-out, island vibe and combines it with some emotive, lyrically driven Americana. After a three-year stint in Boulder, Colorado Chris Juhlin set out for Alaska. There he collaborated with The Collective while setting up studio operations in his cabin near Fairbanks, Alaska.
Juhlin's style is subtle and shares a kinship to the songwriting of David Gray, Tim Easton, and the music of the late 60's and 70's. "Dylan , Floyd, and Bob Marley played a big part in my early interest in the guitar and songwriting. I couldn't put the thing down". Juhlin explains, "I've always most enjoyed music that leaves space for the listener to live in".
Chris started songwriting while in college at Boise State University in the early 2000's. Drawing from the likes of Ben Harper and Bob Marley his own voice began to emerge.
Chris Juhlin's live shows inspire a high-energy yet easy-going atmosphere. The reggae and funk influence shines through and can unexpectedly take you from cerebral to carefree...even his non-traditional folk has a strong element of that head-bobbing rhythm made famous by likes of Jack Johnson, Matt Costa and G Love.
Official Website:
About Camping in a Cadillac
The troubadour life holds a few things in common with the rodeo circuit cowboy life. You bust your ass to get there on time, set up, sleep whenever you can, perform, tear down, and do it all over again tomorrow. Why? I guess because we love it for what it is. It ain't for everyone, that's for sure. Some days it can feel like pure luxury. Freedom. Passion. Other days can feel so sparse; you might guess that you're perpetually camping your life away. I try my best to keep it in perspective and you know what? It just may be my calling to be perpetually Camping in a Cadillac.
Chris LeDoux said it best:
"Well I know it can't go on like this forever
and I maybe a fool just runnin' wild through life
But it's my life and I'll live it to the fullest
and I can look back and say that it was right
And some day when my rovin' days are finally all over
Well I can picture a little home down beside a stream
and with a son and his mother sittin' by me
and with love I'll help him to
strive to reach his dream."
About Kim DeLacy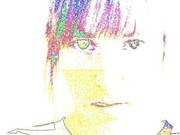 Kim DeLacy is a poetic storyteller who's instrumentals and graceful finger-picking patterns lend poignancy to the raw emotion in her voice. Insightful, heart-wrenching lyrics, melodic guitars, and looped percussive beats create a moody, haunting atmosphere that will remain with you long after listening to this talented young songstress.
Born in southern California and raised in northern Arizona, and playing countless shows around the area, DeLacy is no stranger to the western music scene. Kim recently joined Rachael Yamagata on stage at the Hotel Cafe in Hollywood, CA, and has had such guitar luminaries as Stanley Jordan, Grant-Lee Phillips, and Keith Martini accompany her live in concert
DeLacy has been referred to by many as "a musicians musician", not only playing guitar for indie-rock foursome "Red Skedly" and folk duo "Apocolypstick", but she also played drums for the punk-rock bands "Cherry Soda Freak Show" and "Big Dick & the Boys". Kim has proven, with the release of her new album "crescendos and cadences" that she will not limit herself to guitar and drums alone. The new album includes acoustic, electric, and bass guitars, dobro, mandolin, dulcimer, harmonica, cello, trumpet, thump piano, keyboards, organ, churango, xylophones, drums, and Kazoo, all plays by DeLacy herself.
All these instruments are a drastic change from her acoustic based 2004 release, "The Kim Show". It was made obvious, when the release party for "The Kim Show" was held at the Orpheum Theater in Flagstaff, AZ, that people are listening and all agree that she has become a timeless songwriter. Then, along with her Early 2006 release "Songbook EP", came a heartwarming response from the fans. Enjoy the Rain Records reacted to the overwhelming demand and decided to release another full length album by Kim DeLacy, which after a year long wait, is complete. The album contains 12 songs that take you through the warmth of the fireplace and the broken glass in the back alley, and 2 secret songs recorded live in Sedona, AZ. This album is an unexpected mix of indie, folk, rock, alt. country, and distortion! DeLacy has successfully composed a musical baring of her soul, which makes for an amazing and unforgettable live performance. Don't Miss Her!
Places that Kim DeLacy has performed: Hotel Cafe(CA), The Orpheum Theater(AZ), Largo (CA), The Green Room(OR), Kilby Court (UT), Northern Arizona University(AZ), Bitter End (OR), Towne Lounge (OR), The Know (OR), Room 5(CA), Lizard Head Lounge(AZ), The Clubhouse(AZ), Mia's Lounge (AZ), Hideaway (AZ), The White Eagle(OR), The Boardwalk(AZ), Relics(AZ), Produce Row(OR), Oak Creek Brewery(AZ), GumptionFest(AZ), Hospice Festival(AZ), Trunkspace (AZ), Paisley Violin (AZ), Modified Atrs (AZ), Fiddlers Dream (AZ), What you Want(AZ), Riverfront Park(AZ), Wheeler Park (AZ), Sedona Books & Music(AZ), Random Acts Of Coffee(AZ), Olde Sedona(AZ), Casa Rincon(AZ), and many more!
Map & Directions
Tags for this Event:
Music:
Americana
Alternative/Indie
Property > White Eagle
Related content (tags):