A truly remarkable destination.
2126 S.W. Halsey St.
Troutdale, OR 97060
Local: (503) 669-8610
Elsewhere: (800) 669-8610
Contact Us
Oktoberfest at Edgefield
Oktoberfest Plant Sale
Ben Union
Billy D & the HooDoos
Moody Little Sister
The Twangshifters
Sassparilla
Three For Silver
Kafe Metelyk
Whistlin' Rufus
Julie McCarl and Bodacious
High Fives Polka Band
Joe Mishkin "The Balloon Guy"
Face painting by Amanda Killoran
Sunday, September 29, 2013
All day! Music begins at 11 a.m. |
Free |
All ages willkommen! (except Winery)
About Oktoberfest at Edgefield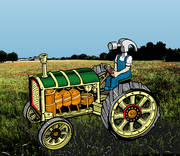 When you imagine Oktoberfest, what comes to mind? Oom-pah bands, loads of beer, bratwurst and hamburgers and more! One and all are welcome to participate in the German celebration that is Oktoberfest! Begun as a wedding party for Germany's Crown Prince Ludwig and Princess Therese in 1810, today Oktoberfest is celebrated all over the world with music, singing, dancing, beer, food and revelry.
** SCHEDULE **
10 a.m.–2 p.m. · Coffee Tastings (at the Gift Shop)
2–5 p.m. · Brewery Tours
2–5 p.m. · Distillery Tastings (at the Distillery)
At Edgefield Greenhouse
12 noon–5 p.m. · Oktoberfest Plant Sale
At the Little Red Shed
1–2 p.m. · Julie McCarl and Bodacious (blue roots zydeco)
2:30–3:30 p.m. · Kafe Metelyk (international folk)
3–6 p.m. · Joe Mishkin (mind-bending balloons)
3–6 p.m. · Amanda Killoran (face painting)
4–5 p.m. · Three For Silver (acoustic trio)
5:30–8 p.m. · Moody Little Sister (powerful soul rock)
At the Winery (21 & over)
5–9 p.m. · Billy D. & the HooDoos (bluzrock storyteller)
At the Loading Dock
11 a.m.–1 p.m. · High Fives Polka Band (oompah!)
1–3 p.m. · Whistlin' Rufus (bluegrass alt. country)
3:30–5 p.m. · Sassparilla (bluegrass cow punk)
5:30–7:30 p.m. · The Twangshifters (rockabilly)
8–10 p.m. · Ben Union (rock)
About Oktoberfest Plant Sale
Plant Sale: 12 noon 'til 5 p.m.
After enjoying live music, dancing, food and drink and more at Edgefield's property-wide Oktoberfest, stop by our garden sale to pick up harvested produce, flowers and more!
About Ben Union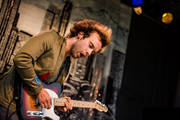 A simple jam-session at Union Station on a Friday exploded overnight to become more than a name and more than simply music. The Union sparked what has gone from a grassroots campaign to a creative movement, with the Union gospel spreading like the fire of political revolution. With a live show that rivals IMAX and a militant following, this is a group to be reckoned with. Join the Union!
About Billy D & the HooDoos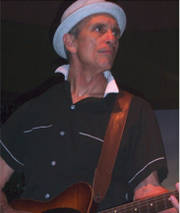 The HooDoos: The HooDoos are great local favorites at clubs and regional music festivals where their CD's regularly sell out and their sets drive crowds to hip-shaking delight. Enjoying his popularity and success in the New Mexico music scene, Billy's first love is writing the extremely popular songs featured by The HooDoos. The HooDoos are a musical force that continues to rock the Rhythm & Blues scene in New Mexico.
Billy Desmond (Billy D): Billy's soulful approach to music has been praised by Albert King, Junior Wells, Humbert Sumlin, & Shawn Colvin among the many who have heard & appreciated his songwriting & guitar talent.
Born on the south side of Chicago in the 50's, Billy grew up surrounded by R&B and the Blues, but as a child of the 50's his first love is Rock n' Roll. He started his professional career at 14, playing guitar at teen dances and private parties. By the age of 18 he was sneaking into the Blues clubs of Chicago to hear such greats as Muddy Waters, Junior Wells, Buddy Guy and James Cotton. Over the next 10 years he would work as a guitarist for Junior Wells, Big-Time Sarah, and Detroit Junior (Howlin' Wolf's piano player for 20 years). He would also garner a good deal of session work as a slide guitarist.
In the early 1980's he formed his first band, Skip City Blues Band, which featured Billy as lead singer, guitarist, and songwriter. After 7 years of touring the Midwest, Billy moved to Los Angeles where he spent a year studying and working with Blues great Tony Matthews, guitarist for Little Richard and Ray Charles. Between 1989 and 1990 Billy also worked with the all-time best Blues violinist, Don "Sugarcane" Harris. In 1990 Billy began concentrating exclusively on developing his original material. In 1998 he moved to Santa Fe, New Mexico and began playing his original material in local clubs to great acclaim. Within a few years, The HooDoos were formed and in August of 2002, with the help of the best studio musicians in New Mexico, Billy released his first CD, Tales From Hollywood (Real and Imagined). In 2003, "She's the One" from this CD was the #1 requested Song by a Regional Artist at KTAO, the largest solar-powered radio station in the world. KTAO produces the annual SolarFest in Taos, New Mexico, where Billy and the HooDoos appeared that year with Robert Cray, Los Lonely Boys, and Shawn Colvin. In 2004 The HooDoos released their equally popular second CD, Rokdalbu!
"Humbert Sumlin was sitting out front of the Kingston Mines on the front fender of his Oldsmobile 98 after my set. Lots of people were talking to him, of course. I was walking up to introduce myself to him, a little nervous because it's Humbert Sumlin for gods sake! He caught sight of me, rose up, walked over and hugged me. I cried! He talked about how glad he was to hear people like me playing, and sat in for the entire next set."
About The Twangshifters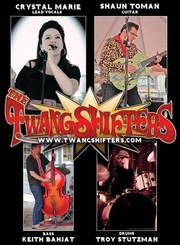 On a dark night in October of 2009, The Twangshifters played their first few notes together in a dark barn somewhere behind Hillsboro, Oregon. The barn promptly imploded, and once they climbed out of the wreckage, they realized that nothing could contain them. They've been rocking the Pacific Northwest ever since -- the show gets bigger and brighter every time. From Portland to Salem to Seattle -- not to mention the whole darned globe via a live internet broadcast for the "30 Hour Day" event from Portland's Pioneer Square, the Twangshifters have hit the Pacific Northwest scene with a mighty sound and fury, and are showing no signs of letting up.
About Sassparilla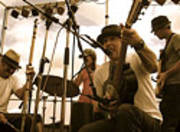 Sassparilla was fermented in the bold-dank regions of Chicago and Pittsburgh and spewed onto the sidewalk of Portland's 24th & Alberta from the mouth of a 5-gallon bucket, with homemade instruments in their clutches: a cigar-box guitar made from Granny's old jewelry box, a washtub bass given a severe beating with a stick, a polka dotted bucket drum kit with rusty break-drum & a hat-box bass. Adding to the mix is a smooth, lulling washboard's rat-tatting - articulated by a man named "Sweet Pea'" and a melodic and blustery fiddle/harmonica duo that dances and interjects like a muscular horn section. With passion, fury, speed, hustle and emotion, the whiskey rains like hellfire, the fingers fly over resonators, and this sextet muster their collective will to never play like cowards.
The result is a one-of-a-kind concoction of homemade, punk-infused, Portland blood-jug holler music.
About Kafe Metelyk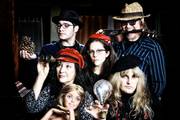 'Kafe Metelyk' (pronounced like the word 'metallic' and means 'butterfly' in Ukrainian) was born in Portland, Oregon in 2010 and features beautiful three-part harmonies, mixing a variety of international musical styles into a veritable smorgasbord of song and sound. Led by former Ukrainian pop star Darka Dusty, Kafe Metelyk's cast changes occasionally, but their music, touches on everything from gypsy-influenced Eastern European melodies, to old Ukrainian village songs which showcase a big-voiced 'primitive' mountain singing style. Darka, along with her husband Miri Stebivka, her sister Natalia Burgess and niece Olenka Burgess make up the core of the group. They sing in their native tongue, too (English) and have recently worked up a song in Japanese. The moment you think you've pegged their special brand of music, they may surprise you.
About Whistlin' Rufus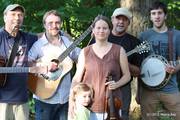 The Whistlin' Rufus musicians bring a lot of experience to the stage and have roots in Classical, Irish, Folk, Bluegrass, Rock and Roll and Jazz music. When you stir it all together combining their exciting knack for arrangements, their three and four part vocal harmonies, original ballads and toe tapping fiddle tunes, well, you end up with Whistlin' Rufus. The band has been together since 2003, celebrating their 10th anniversary this year.
Pat Connell- Mandolin, Guitar, Vocals - Founding member of Whistlin'Rufus, Pat also acts as the booking agent, web-guru, equipment manager, and press agent for the band. Pat has been performing in bluegrass and country rock bands for many years from Bend to Portland. Pat and Ritchie co-write much of the original compositions of Whistlin' Rufus.
Ritchie Wernick- Guitar, Harmonica, Vocals - Founding member of Whistlin' Rufus, Ritchie is the tunesmith, arranger, producer and resident happy face in the group. Ritchie learned his craft in numerous coffee houses on the East coast.
Natasha O'Neal - Fiddle, Vocals - Natasha hails from Wisconsin and her fiddle playing and high vocal harmonies are the highlight of a Whistlin' Rufus show. Nat stays fit by chasing around husband Seth and kids Finn and Eliza
Patrick Connell - Guitar, Vocals - Patrick joined Whistlin' Rufus last year after playing for several years with a Bluegrass band out of Ashland, "The Mighty Lonesomes". Patrick is the lead guitar player and his flat picking solo's are the centerpiece of the Whistlin' Rufus sound.
Zachary Banks - Cello, Vocals - Zach is the newest member of Whistlin' Rufus and completes the band with his amazing cello and high lonesome harmonies. A classically trained musician, Zach brings composure, youth and great good looks to the band.
Billy Failing - Banjo, Vocals - Billy is completing his senior year at the prestigious Berklee College of Music as one of a handful of students majoring in Banjo. At Berklee, Billy is exposed to the instructions of such banjo legends as Bela Fleck, Tony Trischka and Norm Pikelny. Whistlin' Rufus is thrilled to have Billy join us for many of our summer festival events.
About Joe Mishkin "The Balloon Guy"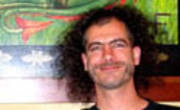 With his incredible balloons, his awesome juggling, his spirited music playing and his daring unicycling and fire juggling, Joe is sure to please your friends, your neighbors, your co-workers, your boss, and you, too!!
Map & Directions
Tags for this Event:
Events:
Beer, Wine, and Spirits
McMenamins Celebrations
Family
Music:
World Music
Blues
Americana
Property > Edgefield
Related content (tags):