A truly remarkable destination.
2126 S.W. Halsey St.
Troutdale, OR 97060
Local: (503) 669-8610
Elsewhere: (800) 669-8610
Contact Us
Halfway to St. Patrick's Day
Professor Gall
Jon Davidson
Tony Smiley
Jackstraw
Wild Boar
Switchgrass
Pass The Whiskey
Truir Amadan
Brothers Dunne
River City Pipe Band
Na Rósaí
Irish Dancers
Saturday, September 14, 2013
All day! Music begins at 11 a.m. |
Free |
All ages (except Winery)
About Halfway to St. Patrick's Day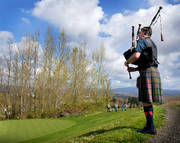 OK, we know, it's kind of a wacky idea - no one celebrates halfway to St. Valentine's Day, right? (Although, now that we think about it... nahhh...)
But, regardless, we love St. Patrick's Day and we love being halfway to it! So let's have some drinks, hear some music and have a full-on good time together. Because why not?
** SCHEDULE **
At the Loading Dock
11 a.m.–1 p.m. · Na Rósaí (Celtic)
1 p.m. · Irish Dancers
1:30–3 p.m. · Brothers Dunne (wild to mild Irish)
3:30–5 p.m. · Pass The Whiskey (Irish rock)
5:30–7:30 p.m. · Jackstraw (folk grass)
8–10 p.m. · Professor Gall (steam punk blues)
At the Little Red Shed
1–3 p.m. · Truir Amadan (Celtic)
3:30–5 p.m. · Switchgrass (grass roots folk)
5:30–8 p.m. · Tony Smiley (looped Ninja)
Roaming the property
2:30 p.m. · River City Pipe Band
At the Winery (21 & over)
5–6:30 p.m. · Wild Boar (acoustic jazz blues)
7–9 p.m. · Jon Davidson (Americana rock)
** Food & Drink Specials **
Irish Fries, Irish Reuben, Iced Irish Coffee and Irish Stout!
Plus Irish-tinged revelry at all of our joints!
About Professor Gall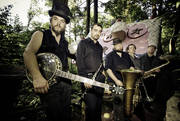 'A Tincture of Junkyard Folk and Steampunk Jazz'...
Professor Gall seeks to uncover the contradictions of an ambiguous and native-less society, 'dreaming the existentialists' dream' while at the same time pleading for individualism, peace, and more fun at funerals.
This Portland conglomerate starts with Drew Norman on vocals, guitar, percussion stomp box, and banjo, which brings his theatrical experience to the musical stage and is responsible for the initial musical and lyrical embellishments. Drew's recent side roles include the 'Husband' in the stage and movie version of Sally Tomato's Toy Room (Severe Enterprises), a rock opera that won awards from The Heart of England Film Festival, among others. He is also commissioned by other musical luminaries on stage and in the studio from Chris Robley's Fear of Heights Orchestra (Cutthroat Pop Records) to Jeff Hanson (Kill Rock Stars Records). Scott Johnston heads up the first chair position for the horn section, arranging charts and providing his saxophone alchemy. Rounding out the ensemble is Monte Skillings on trombone, Todd Burba on clarinet and accordion, Sean Hudson on stand-up bass, Jake Pegg on tuba, and Andrew Clarinet on the....ahem...clarinet.
Critical acclaim for their first full length CD Intravenous Delusion has enabled Professor Gall to become a regional favorite, sharing the stage with semi-national/national acts like The Devil Makes Three, Eric McFadden Trio, Slim Cessna's Auto Club, Billy Nayer Show, Vagabond Opera and Sleepytime Gorilla Museum at venues throughout the West Coast as well as festivals like the Folklife Festival in Seattle, WA. The band released in March of 2010 their sophomore release entitled The Psychology of Booze and Guilt to rave reviews.
Professor Gall was recently featured by Seattle's City Arts Magazine as the Portland, Oregon representative of the National Steampunk Movement, along with the Dresden Dolls (Boston), Abney Park (Seattle) and Unwoman(San Francisco).
Rotating and past players include: Chad Youngman (bass and drums), Tricia Beck (vocals), Chris Robley (vocals and keys), Aaron Miller (keys and lap steel), Paul Brainard (trumpet and pedal steel), Benny Morrison (baritone sax, flute, and clarinet), Daniel Lamb (trombone), Russell Gores (drums and saw), Tony Esperanza (drums).
Official Website :




Myspace:
About Jon Davidson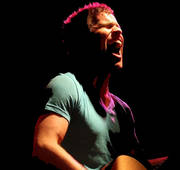 Jon is an alternative rock artist from Portland who has toured in 5 countries and most of the United States. His singles have been played on stations throughout the US states and Canadian provinces, and charted on college radio's Hot 200 chart. He has shared the stage with such artists as Puddle Of Mudd, Powerman 5000, Saliva, Hurt, Houston Calls, Intervision, We Shot The Moon, A Change Of Pace, Under The Flood, Fall From Grace, Nonpoint, and The Exies, and has toured nationwide with Tyrone Wells and Andrew Belle.
Jon's first first full-length solo album, Perfect Cliché, was released in October 2008, and a deluxe edition of the album came out in June 2010. Jon wrote all of the songs, played all of the instruments, and performed all of the vocals on the album. The album was mixed by Gabe Johnston (Kandles At Nine, Black N' Blue) and mastered by Nick Moon (Everclear, The Dandy Warhols, Inked In Blood). Singles from the album have received airplay on six different radio formats: Modern Rock, AAA, Hot AC, Country, Rock, and College.
In addition to his solo career, Jon is also the frontman for the critically acclaimed pop/rock act Crown Point as well as the hard rock band Silversafe.
Davidson just finished recording the new Crown Point album, Wolves, at Greenhouse Studios in Vancouver, BC. The album was produced by Jeff Johnson (Jet Black Stare, Default, Faber Drive, Adelitas Way), engineered by Chris Holmes (Korn, The Veer Union, Katy Perry), and mixed by Gordini (Nickelback).
Jon has appeared in Entertainment Weekly and on E! Television, FOX, and ABC. His music is published by Dummy Boy Publishing, LLC. Jon's song "What Can I Say" has been chosen for inclusion in the upcoming feature film Twisted Redemption. He was the runner-up for the Best Male Artist Of The Year award at the 2009 Portland Music Awards.
Davidson is committed to using his music to make a tangible difference. He frequently performs benefit shows and other events for such organizations as the American Heart Association, the American Cancer Society, the American Red Cross, Forward Edge, and the March Of Dimes.
About Tony Smiley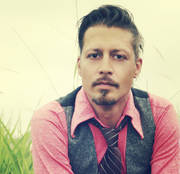 Since 2000, Tony Smiley has captured audiences with his unique beats. This musical savant loops his way through a unique genre of music that you won't find anywhere else. All with witty, engaging, and energetic stage presence. His cosmic dance of electric melodies mixed with world beats, Mongolian throat singing and beat-boxing have earned the Loop Ninja a cult like following who repeatedly embark on his musical journey. Creating each track with a raw, primal and pulsating connection between rich sounds and passionate lyrics.
The songs of Tony Smiley are a tantalizing ride through electro acoustic music that will cause your musical senses to rise. During the experience you can expect original soul bearing songs, improv crowd pleasers, and creative cover mixes. As he loops his way through a set he builds the audience's anticipation by using, keyboards, drum machines, guitars, tambourine, cowbell, vocals and beat box sounds through Boss Loop pedals. His songs are original, groove-laden works of art. The loop ninja will "completely make you a believer." (Andy Summers, guitar player for the Police)
In 2010, Smiley joined the ranks of his fellow loop artists, winning 3rd place in the National Boss Loop Contest in Hollywood. Judges included: Paul Youngblood (Boss US Director), Frank Gambale (Guitar player for Chick Corea), Andy Summers (Guitar player for The Police), Derek Murdock (Bass player for Kevin Eubanks, Tonight Show Band), Michael Molenda (Editor of Guitar Player Magazine). He continues to work with Roland/Boss running pedal clinics and performing for international ad campaigns.
Currently, Smiley can often be found composing and laying down progressive loops with hip hop roots in the Pacific Northwest; flying solo or playing with musical friends such as Redwood Son, Keegan Smith and MOsley WOtta. If you would like to experience the sounds of Tony Smiley follow him on FaceBook, YouTube, MySpace and Reverbnation or schedule a show.
website:




Facebook:
About Jackstraw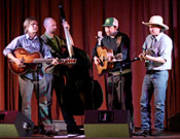 Jackstraw's music springs from the traditional core of bluegrass, mixing original and traditional songs and shaping them through wicked harmonies & ferocious pickin'. Over a decade of playing they've in a variety of settings - rowdy college crowds, smoky nightclubs, outdoor afternoons and family festivals - from San Francisco CA to Atlanta GA, Burlington VT to Whitefish MT. As such, Jackstraw has established itself as one of the preeminent representatives of Portland's boisterous roots scene.
With the members coming from Kansas, Rhode Island, Colorado and Chicago, their different backgrounds and influences and conjoined within a common passion for acoustic music. They all grew up hearing the sounds of guitars, mandolins, banjos and fiddles, taking those sounds deep into our souls. In 1997 Jackstraw came together to pursue music that would deliver a fresh take on the energy, vigor and soul of bluegrass, while remaining true to its spirit and tradition.
"Jackstraw impresses me with their tight-knit, skilled musicianship, their crackling
energy and repertoire which includes both traditional gems and fresh new tunes.
A young band like this helps set the tone for new bluegrass in the 21st Century."
- Pete Wernick, Hot Rize
"Jackstraw has added some much-needed youthful energy to the ranks of contemporary
traditional bluegrass, . . . It'll be a pleasure to hear Jackstraw's next recording."
- Dirty Linen Magazine
", . . . comforting proof that the widening popularity of bluegrass threatens neither
authenticity nor energy."
- John Foyston, The Oregonian
website:
About Switchgrass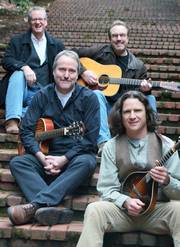 John Stocks, Guitar/Dobro/Banjo/Harmonica and Vocals ---
A native of Minneapolis and former music shop owner, John played in a myriad of Midwest bands before migrating West. John has played with a number of local Portland bands, including Fez Fatale and Da Funk. Multi-instrumentalist, prolific songwriter, and a singer with a soulful, story-telling voice make John a real triple threat.
Mike Smith, Guitar/Vocals ---
Mike grew up in and around San Francisco where he worshipped at the altar of Jerry and was heavily influenced by the inventive bluegrass styles of locals David Grisman and Peter Rowan. Mike has played in numerous Portland area bands, including a long time fixture on the local live music scene, Mystic Canyon.
Duane Ransom, Upright Bass/Vocals ---
Duane is a real pro, having played bass in California bands that opened for the likes of Bonnie Raitt, James Taylor and Poco. Since moving back to Oregon many years ago, he has played with popular local bands Soul Vaccination, Cowboy Heroes, Soul Search, and My Girl Whiskey.
Bryan Owens, Mandolin/Fiddle/Guitar/Vocals ---
Originally from Maryland, Bryan has been a performing musician and multi-instrumentalist for much of his life. His eclectic taste in music is reflected in his work with rock bands, jazz groups, vocal choirs, musical productions, folk groups, Irish musicians, singer/songwriters as well as a history of solo guitar performance. Over the past few years he has recorded and performed with Nina Lane, Cassandra Robertson, Kafana Klub, The Left Coast String Band, Heathen Collective, Kendálin, Mistral and Terracoustic.
Website:




Facebook Page:
About Truir Amadan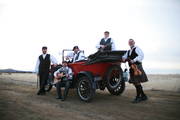 Triúr Amadán is an Irish/Celtic Band from Madras, Oregon. The group was formed when Jon Granby, Royce Schlenker and Michael McGinnis decided to start a strumstick band. (A strumstick is a three stringed instrument). The thought was, "This will be something different." Well, it was different; but it was also very limiting. So, out came the banjos, harmonicas, bass, guitar, concertina, fiddle, bodhrán, and penny whistles and to everyone's delight, the music started flowing. Still wanting to be different from most bands in Central Oregon they went with the Irish/Celtic theme. They were soon joined by Kent Wright, a guitarist and Joe Baumann, a recorder player looking for an Irish Band. They were now complete. (For you true Irish Folk a recorder is a penny whistle with extra holes). Although most of their music is traditional Irish/Celtic the players' diverse musical talents allowed them to add a little American Folk, audience participation and bluegrass songs.
Triúr Amadán's rowdy, fun, audience engaging style has built them a strong following who think little of travelling around the state to hear them. They are, as one person put it, "A band that could make a Banshee giggle." Fun may be the driving force but the quality of music is all important as well. Frank Harte, an Irish singer, once said, "Those in power write the history, while those who suffer write the songs." Whenever they perform Celtic ballads they keep in mind that the words are the things that make them wonderful. The music might be lilting and beautiful but it is the story told that truly entertains. Because of this, their goal is to play the ballads in a manner that keeps the emphasis on the words.
Triúr Amadán's resume includes such diverse venues as McMenamins at Edgefield's St. Patrick's Day Celebration, Bite of Bend, The High and Dry Bluegrass Festival, Maher's Irish Pub in Lake Oswego, The High Desert Celtic Festival, The St. Andrew's Day Scottish Festival, The Metolius City Bi-Centennial Celebration, The Central Oregon Air Show, Geno's Italian Grill, Great Earth Deli and Natural Food Store and the Desert Inn. Being community minded they have also played benefits for the Mountain View Hospital Foundation, the Children's Learning Center, the Madras Aquatic Center Foundation, Relay for Life, the United Methodist Men's Salmon Feed, St. Patrick's Church Fund- raiser, and the Week of the Young Child Festival.
About Brothers Dunne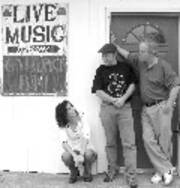 Tommy and Tony Dunne have been performing live around the Northwest since the '80s. The brothers learned music in grade school by virtue of the good nuns at St. Thomas More with spiritual assistance from Lennon, McCartney, and the Clancy Brothers -- The British invasion meets the Irish uprising!
"Sister" Mary Harvard was let out of the family's basement and joined the brothers' musical escapades in 2006, contributing her own folk influence, added instrumentation, and Part 3 to the buttery tight vocals.
Together the trio provides hours of entertainment, playing a variety of music with an emphasis on Irish folk, a strong emphasis on vocal harmonies, and an even greater emphasis on FUN! Pure entertainment... whether you're Irish or not!
About River City Pipe Band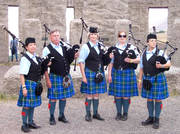 River City Pipe Band is a performance pipe and drum band. They exists to provide a supportive and constructive learning environment for its members to improve their craft through practice, performance, and individual and group competition.
Official Website:
About Na Rósaí
Visit the Na Rósaí Facebook Page
Map & Directions
Tags for this Event:
Events > McMenamins Celebrations
Music:
Rock
World Music
Americana
Property > Edgefield
Related content (tags):