Back to school in Bend!
700 N.W. Bond Street
Bend, OR 97703
Local: (541) 382-5174
Elsewhere: (877) 661-4228
Contact Us
Sponsored by Des Chutes Historical Museum and the Oregon Historical Society
"Holmes v. Ford: Slavery on Trial in the Oregon Territory"
with
R. Gregory Nokes
author of
"Breaking Chains: Slavery on Trial in the Oregon Territory"
Oregon Encyclopedia History Night
at Old St. Francis
6 pm. doors; 7 p.m. event |
Free |
All ages welcome
About "Holmes v. Ford: Slavery on Trial in the Oregon Territory"
Missouri slaves Robin and Polly Holmes and their children were brought to Oregon in 1844 by their owner, Nathaniel Ford, with the promise of freedom in exchange for developing his Willamette Valley farm. Ignoring the Oregon Territory's unenforced law against slavery, Ford didn't free the parents until 1850, even then keeping their children. Seeking the return of his son and two daughters, Holmes took his former master – an influential farmer and legislator – to court. In his new book, R. Gregory Nokes (author of Massacred for Gold: The Chinese in Hells Canyon) tells the story of the only slavery case adjudicated in Oregon's pre-Civil War courts. He follows the largely unknown experiences of other Oregon slaves and explores the historical context of racism in the West.
About the Speaker
Greg Nokes retired in 2003 after 43 years in journalism, including 25 years with The Associated Press and 15 years with The Oregonian in Portland. While with The AP, he was stationed in New York, San Juan, Buenos Aires and Washington, D.C., where he served as both an economics and diplomatic correspondent. He traveled to more than 50 countries during his career. Nokes graduated from Willamette University and attended Harvard University as a 1972 Nieman Fellow. Since retiring, he has embarked on a second career as a writer and lecturer on the experience of immigrant Chinese in the Pacific Northwest. His writings about the murders of Chinese miners has resulted in a formal designation of the massacre site as Chinese Massacre Cove. Nokes lives with his wife, Candise, in West Linn, Ore.
August 27, 2013
About Oregon Encyclopedia History Night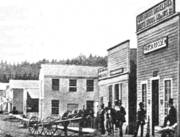 The Oregon Encyclopedia hosts a series of History Nights in collaboration with McMenamins pubs. Come join us for an enlightening evening of history, served up with food and a pint or two of good beer, and find out more about the history and culture of our state from OE authors. Bring your encyclopedia-worthy Oregon stories to share with the OE Editors-in-Chief.
Oregon Encyclopedia website:
Map & Directions
Tags for this Event:
Events > History
Property > Old St. Francis School
Related content (tags):