Great Northwest Music Tour
Super Water Sympathy
Plus an interview with the band, beer samples and free apps!
Bourbon Barrel Aged Venomator Imperial IPA
Limited-Edition Beer Tasting
#2 of the Crystal Ballroom's "100 Nights"
Tuesday, October 15, 2013
7 p.m. |
Free |
All ages welcome
Every month the Great Northwest Music Tour blazes a fresh musical trail, bringing an ever-changing lineup of talent to McMenamins Historic Properties. There is no admission charge to the festivities, and our unique hotels offer food, handcrafted beverages and a cozy place to bed down after the last note is played. Bring your friends and family and jam to a different artist every month.
About Super Water Sympathy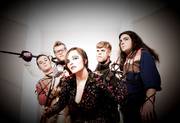 Shreveport, Louisiana-based Super Water Sympathy deliver the next chapter in the development of the band's self-made genre Water Pop with their sophomore full-length, Hydrogen Child. Produced by Cam Blackwood (Florence + The Machine, Coldplay, Morrissey), the band flew to London to record a synthesis of classic symphonic ambience with modern rock 'n' roll anthems. With comparisons bound to conjure up images of Coldplay, The Fray, and Florence + the Machine, one thing is for sure, Super Water Sympathy live show will stick in your head - and entertain you like never before!
website:
About Plus an interview with the band, beer samples and free apps!
Tonight we also have samples of a special limited-release beer, chats with the Crystal Ballroom brewers, and a live, onstage interview with the band.
About Bourbon Barrel Aged Venomator Imperial IPA
This is a big and bold but very approachable English style Imperial IPA. This beer is very well balanced between the malt and the hops. The malt character is nutty, bready, and slightly spicy with a caramel sweetness. The use of all noble hops gives this beer floral, spicy, and fruity notes, without an overpowering bitterness. This imperial IPA then was aged for three months in a oak bourbon barrel provided by the Edgefield Distillery. The barrel adds hits of oak, bourbon, and vanilla which complements nicely against the bold imperial IPA. At almost 9% alcohol by volume this beer is meant to be enjoyed in moderation.
Malts: Pale malt, Ashburne Mild, Victory, Rye
Hops: Citra, Perle, Golding, Crystal, Delta
OG: 1.082 TG: 1.015 ABV: 8.64% IBU: 100 SRM: 9
About Limited-Edition Beer Tasting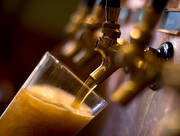 Join us once a month to sample a new, small-batch beer, handcrafted by one of our brewers.
Talk to the brewers, ask beery questions, enjoy happy hour pricing all night long on these limited-edition pints and more.
And when the beer is gone, it's gone.
About #2 of the Crystal Ballroom's "100 Nights"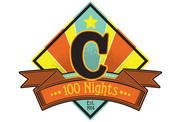 Portland's Crystal Ballroom, as an ongoing entertainment staple for the city since 1914, celebrates its 100th birthday with a 100-day-long party! From October 14, 2013 to its actual centennial-mark on January 21, 2014, daily events will tumble forth from the historic Crystal Ballroom and its second-floor space Lola's Room, with an occasional spotlight pointed at the affable setting of Ringlers Pub.
Events will feature a mix of current national acts, the return of longtime Portland favorites, showcases of up-and-comers, and themed events inspired by key eras of the Crystal past. While the series will end with a bang - a performance by the Decemberists' Colin Meloy on January 21 - the entire run of shows will be stacked with stellar talent. Additional events will pay tribute to the Crystal's amazing history, with ballroom dance extravaganzas, old-timey/Americana dances, a gypsy-themed event, soul/funk shows and psychedelic jams.
Map & Directions
Tags for this Event:
Events > Beer, Wine, and Spirits
Property > Crystal Ballroom Property
Related content (tags):