30340 SW Boones Ferry Rd
Wilsonville OR 97070
Phone: (503) 427-2500
Fax: (503) 427-2519
Contact Us
Tin Silver
Music in the Amphitheater
6 p.m. |
Free |
All ages welcome
About Tin Silver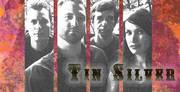 Tin Silver serves up solos hot and often, never at the expense of the band's diverse, smart songwriting. Listen to Tin Silver and you will hear the beer halls and Baptist churches of West Texas, sun-drenched California, and a little New York thump. You'll hear soaring country soul, hill blues stomp boogie, and fiddle-centric folk music. You'll hear a quartet with a deep understanding of roots music and the hard-won musical chops to prove it.
The band writes collaboratively, with guitar/banjo/dobro player Alan Bowen bringing the bulk of the raw material, as well as the fluent bluegrass licks and blues solos he learned over years of dedicated study. Drummer Matthew Higgins, one half of Tin Silver's Texas contingent, contributes the tight, bright, intricate groove he developed while cutting his teeth on Bob Wills country-swing standards. Paired with Paul Prato's bottom filled electric and upright bass sound and punk-bred attack, Tin Silver's rhythm section has uncommon fire and dynamic range. Tricia Rojas, the band's other Lonestar State ex-pat, brings sweet violin and the aching, rafter-rattling vocals she developed singing in church choirs during her childhood.
About Music in the Amphitheater
Outdoor tunes! If the weather turns, we'll head inside to the Church. But what if it's booked?! Well, we wouldn't want to intrude on someone's wedding or something, so we'll have to cancel in that case. You win this round, Mother Nature!
Map & Directions
Tags for this Event:
Music > Americana
Property > Wilsonville Old Church & Pub
Related content (tags):