Come have fun in school... for once...
5736 N.E. 33rd Ave.
Portland, OR 97211
Local: (503) 249-3983
Elsewhere: (888) 249-3983
Contact Us
Hoot Family Showcase
7 p.m. |
Free |
All ages welcome
About Hoot Family Showcase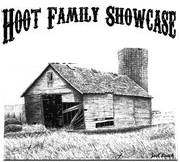 The "Hoot Family" is a nickname for a group of Portland-area Americana musicians whose love for the genre is equaled only by their love of community.
Since 2009, musicians and bands, friends and family, gather monthly at "The Barn," a shed that has been remodeled into a sort of club house – complete with stage, backline and bar. "The Hoot" is a modern community social – families, kids and dogs – all are welcome. It's a chance for busy musicians to gather together to play and enjoy one another's company – away from the clubs where they "work."
Sometimes a band showcases, but more often musicians jam or throw their name in a hat for a "band scramble" – where a pick-up band is put together on the spot. Touring musicians always find a friendly welcome. The vibe is loose and free – like a little Woodstock.
Close knit relationships have grown from those community sessions. So when members play out in public as part of a "Hoot Family Showcase," it's akin to a "roving barn" party. Musicians mix and match – taking turns on stage and sitting in with one another. Their gleeful camaraderie and musical enthusiasm is contagious – and is a promise of music that truly comes from the heart.
Map & Directions
Tags for this Event:
Music:
Americana
Alternative/Indie
Property > Kennedy School
Related content (tags):