"The Assembly" hosts the debut of Levon Helm documentary, followed by live music
Mark Eitzel and His Mighty Band
Ain't In It for My Health: A Film About Levon Helm (Portland debut)
and including Levon Helms tunes performed by Marty Marquis (of Blitzen Trapper)
--
6 p.m. doors, 7 p.m. film, 9 p.m. music |
$13 advance, $15 day of show ($7 movie only) |
21 and over
Buy Tickets
Tickets on sale now!
About Mark Eitzel and His Mighty Band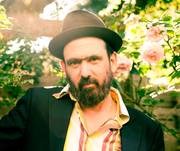 Mark Eitzel has released over 15 albums of original material with his band American Music Club and as a solo artist. The Guardian has called him "America's Greatest Living Lyricist" and Rolling Stone once gave him their Songwriter of the Year award. Originally formed in 1983, American Music Club released seven albums before breaking up in 1995. They reunited in 2004 and subsequently released two albums on Merge Records, Love Songs for Patriots and The Golden Age.
Mark Eitzel's new solo record, Don't Be a Stranger, was created after a string of bad luck that included a heart attack that set him back several months and the implosion of his band American Music Club. He fortuitously found himself in the studio with celebrated producer Sheldon Gomberg (Rickie Lee Jones, Ron Sexsmith, Ben Harper), thanks to the generosity of an old friend. The result is Eitzel's finest solo album in over a decade.
Mark plans to tour the US in late 2012 and Europe in early 2013 with his band, whose stateside members include Kristin Sobditch (Little Fuzzy), Marc Capelle (American Music Club), Jon Langmead (Loquat), and Pete Straus (Dwarves). His live set consists of a mixture of songs from his rich catalog, including selections from American Music Club as well as newer material. Mark's touring band will consist of piano, bass, and drums in the classic lounge style, but he also plans to "bring the chaos" in the form of his electric guitar. Renowned for his self-deprecating sense of humor, Mark's live shows are always unique and unpredictable in the best possible way.
Facebook:




Website:
About Ain't In It for My Health: A Film About Levon Helm (Portland debut)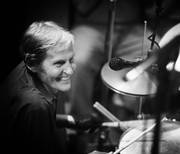 Director Jacob Hatley's intimate documentary finds Levon Helm at home in Woodstock, NY, in the midst of creating his first studio album in 25 years. Shot during the course of two-plus years, this highly anticipated film focuses in on the four-time Grammy winner and Rock and Roll Hall of Fame member after his 2007 comeback album, Dirt Farmer, brought him back to the spotlight.
"...an affectionate tribute and a gift for fans..." - A.O. Scott, The New York Times

" it's impossible to imagine a more exquisite, honest, and beautifully detailed documentary about the life of Levon Helm than Jacob Hatley's Ain't in It for My Health." - Peter Gerstenzang (Village Voice)

"...an unsentimental, salt-of-the-earth tribute that keeps the beat in a way that would make this extraordinary journeyman beam." (four stars) - David Fear (Time Out NY)

"A captivating look at a musician hanging onto his art for dear life." - Daniel Carlson, Hollywood Reporter

"One of the most interesting and compelling portraits of a musician in a long time" - Josh Olson,Ain't it Cool News
About and including Levon Helms tunes performed by Marty Marquis (of Blitzen Trapper)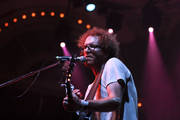 Marty Marquis is a musician and songwriter best known for his work as a multi-instrumentalist and hype man with Portland band Blitzen Trapper. Despite never being released as a proper studio recording, live renditions of his song "Jericho" have long been favorites among Blitzen fans the world over. Additionally, his cowbell-playing for the group has been heralded as "virtuosic."
A fifth-generation Northwesterner, Marquis took up hitch-hiking while still a teen and drifted around America for several years before finding himself in Lookout Mountain, Georgia. It was here that he met fellow sojourner Eric Earley, and the two began a friendship that included entertaining dorm-mates with Neil Young covers and camping out together in haunted forests.
By late 1999, Marquis, Earley, and the rest of Blitzen Trapper had gathered in Portland, and the band was formed in early 2000. Initially called Garmonbozia (after a line in David Lynch's Fire, Walk With Me), the group established its indie bona fides with years of playing around town to essentially empty rooms for no pay and only minimal, extremely local varieties of glory.
After being spurned by more than a few record labels, Blitzen Trapper decided to self-release 2007's critically-acclaimed Wild Mountain Nation. It was then that Marquis revealed his talents as an entrepreneur, and along with early BT champion Matt Wright established the group's own label and built up the business that has since sustained the band. Marquis has since performed with Blitzen not only on late-night television and massive festival stages, but also in some of the most squalid dives in North America.
Marquis' solo work is marked by a predilection for fingerstyle acoustic guitar and historical/mythical themes. "Jed Smith, 1827" for example, retells the legendary explorer's first overland visit to California in the form of a heat- and thirst-induced hallucination. "The Son of Thunder Remembers" gets inside the head of John the Apostle as he watches his best friend betrayed and executed. Recently Marquis has begun employing foot-pedals to add counterpoint and synth-bass to his performances.
About --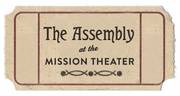 ... The Assembly
The Mission Theater -- the place that first put beers into the hands of Portland theater-goers so many years ago -- has proudly introduced a new line of programming, dubbed "The Assembly."
While retaining its relaxed environment, comfortable seating and matchless sightlines, the Mission is dropping its second-run movies, stepping up its food and beverage offerings, and -- best of all -- evolving the theater's programming dramatically. The core of The Assembly features film screenings with related lectures, interviews, and performances that bring cinema to life. And fans of Mortified, Miz Kitty and live music will be happy to learn that many of the live performances that we've all loved over the years will continue. After all, The Assembly's primary mission -- engaging audiences with events that are both enriching and entertaining -- has few boundaries!
So get your curiosity on and gather with us at The Assembly. There's a lot of world out there.
Map & Directions
Tags for this Event:
Events > History
Movie Types > All Ages
Music:
Americana
Alternative/Indie
Property > Mission Theater
Related content (tags):