30340 SW Boones Ferry Rd
Wilsonville OR 97070
Phone: (503) 427-2500
Fax: (503) 427-2519
Contact Us
"Abraham Lincoln and the Oregon Country"
Wilsonville History Night
A presentation by
Richard W. Etulain
5 p.m. doors, 6:30 p.m. event |
Free |
All ages welcome
About "Abraham Lincoln and the Oregon Country"
Oregonians of the Civil War Era, by and large, strongly aligned themselves with Abraham Lincoln on various political issues – Indian relations, military policies, civil and legal rights, and North-South ideological conflicts.
Etulain, in his latest book, refutes the argument that Pacific Northwest residents were mere "spectators of disunion," revealing instead that men and women of the Oregon Country were personally and emotionally involved in the controversial ideas and events that inflamed the United States during the fractious era.
About the Speaker
Richard W. Etulain specializes in the history and cultures of the American West and on the life of Abraham Lincoln. Most of his 50 books and hundreds of essays and reviews deal with the West, but recently he has devoted increasing attention to Lincoln's links with the American West, with such works as Beyond the Missouri: The Story of the American West (2006), Lincoln Looks West (ed., 2010); and Lincoln and the Oregon Country Politics in the Civil War Era (2013).
From 1979 to 2001, Etulain was a professor of history and director of the Center for the American West at the University of New Mexico. He now is a full-time researcher and writer residing in Portland, Ore.
About Wilsonville History Night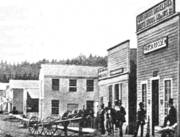 Join us for beer and history, Co-Sponsored by the Wilsonville Public Library and Wilsonville-Boones Ferry Historical Society, the Oregon Encyclopedia, and McMenamins, in which you'll hear lively local and regional history while you enjoy a frosty pint or two of handcrafted ale.
Wilsonville Public Library:




Oregon Encyclopedia Website:
Map & Directions
Tags for this Event:
Events > History
Property > Wilsonville Old Church & Pub
Related content (tags):