A truly remarkable destination.
2126 S.W. Halsey St.
Troutdale, OR 97060
Local: (503) 669-8610
Elsewhere: (800) 669-8610
Contact Us
Edgefield Concerts On The Lawn
Yeah Yeah Yeahs
with Special Guest
Har Mar Superstar
Wednesday, August 14, 2013
5 p.m. doors, 6:30 p.m. show |
General admission: $38 advance, $43 day of show (no reserved seats) |
All ages welcome
Buy Tickets
Tickets on sale now!
All tickets available through EdgefieldConcerts.com, in person at the Crystal Ballroom box office, Bagdad Theater, Edgefield Gift Shop and charge by phone at 1-800-514-3849. Ticketing services provided by Etix.com. (Subject to service charge and/or user fee.)
Edgefield proudly hosts the sixth year of Concerts on the Lawn, an outdoor music series that has become a summer tradition for fans throughout the Pacific Northwest.
For complete information about the acts, the venue, rules, policies and much more, please visit edgefieldconcerts.com. Check out photos from past shows at Edgefield, as well!
Please note:
- Low-profile lawn chairs and blankets only
- No picnics or outside food or beverages
- No re-entry
- No pets
- No camping
- No RVs
- No unauthorized vendors
About Yeah Yeah Yeahs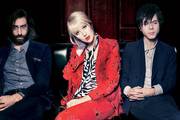 At the turn of the twenty-first century, the New York City music scene floated in a surfaceless orbit of samplers, shoegazers, and delay pedals. The city's guitars lay choked by a digital fog, or else they lay dustily forgotten. Then, in 2002, an unbridled five-song EP by an unknown band brought noise, sex, passion, and mayhem back to the stage and to the stereo. The band's name evoked the kid who knows that whoever's in charge is full of shit -- "yeah, yeah, yeah" -- but it also rang with the affirmation of pure rock and roll: Fuck yeah!
The Yeah Yeah Yeahs' first full-length album, Fever to Tell, was simultaneously filthy, infectious, sloppy, and brilliant. You could dance to it, and you could probably die to it. "Maps" was nominated for a Grammy, and the record went gold in the UK. It would have been easy enough to record another spastic, live-sounding garage album after the success of Fever, but their next full-length, 2007's Show Your Bones, added acoustic guitar and more serious compositions that picked up on the direction suggested by a song like "Maps." Rolling Stone called the record a "textural triumph," and the group honed their legendary stage performance – one cannot understand the Yeah Yeah Yeahs without seeing Karen O writhing and thriving onstage.
A handful of great songs that didn't make it onto Bones became tour staples (and fan favorites), and the band sat down with the celebrated PiL/Slits/Gang of Four producer Nick Launay to record 2007's EP Is Is. Its Blitz signals both a glance backward and a step forward for the Yeah Yeah Yeahs. Zinner's vintage Arp – the same model used on records by The Cars, Joy Division, and Kraftwerk – contributes atmospheric washes ("Skeletons"), disco wiggles ("Dance till you're dead!" Karen sings on "Heads Will Roll"), and New Wave melodrama ("Soft Shock"). The first single, "Zero," combines all these elements to create a dance-floor anthem that sings directly to the listener.
"We've got a death grip on the adolescent way of feeling things," O said. That's something I'll never be able to shake in the music I write. It's almost feels like a John Hughes '80s movie." But acknowledging the past in this way doesn't sound make for a nostalgic-sounding album. "I think there's a cool stability reflected in this record," Brian Chase says. "It reflects our transformation, and how we've developed as people."
Website:
Map & Directions
Tags for this Event:
Music > Alternative/Indie
Property > Edgefield
Related content (tags):