30340 SW Boones Ferry Rd
Wilsonville OR 97070
Phone: (503) 427-2500
Fax: (503) 427-2519
Contact Us
"Gigaflood – The Effects of the Lake Missoula Flood in NW Oregon and SW Washington"
Wilsonville History Night
5 p.m. doors; 6:30 p.m. event |
Free |
All ages welcome
About "Gigaflood – The Effects of the Lake Missoula Flood in NW Oregon and SW Washington"
The great ice age Lake Missoula Flood left scars literally from Montana to the Pacific Ocean. Artist, photographer, and writer Rick Thompson will present his research uncovering the effects of the Lake Missoula Flood in Northwest Oregon and Southwest Washington.
This catastrophic flood propelled over 500 cubic miles of water, ice, rock and mud across eastern Washington, further cut the Columbia River Gorge, covered the Willamette Valley with up to 400 feet of water and left gravel bars miles wide and hundreds of feet high. With color photos, topographical maps and space photos, Thompson will show some of the signs still visible today.
About the Speaker
A native Oregonian, Rick Thompson is president of the Lower Columbia Chapter of the Ice Age Floods Institute who loves to share the beauty of the great Northwest. Though geology is not his profession, it is his passion. Being intrigued by the land formations, huge boulders and glacial erratics, Thompson embarked on a 15-year study to show that unlike the massive expanses of flood features in Eastern Washington, Northwest Oregon and Southwest Washington has its own treasure chest of scablands, flood channels and dramatic story to tell.
Thompson has become the local "go-to" person for the visible effects of the floods in Northwest Oregon and Southwest Washington. He was on Grant McOmie's "Grant's Getaways" in 2012 and 2013, discussing the glacial erratics in this area.
Besides giving talks and leading field trips on the subject, Thompson has developed a number of driving tours and is currently in the process of completing his book.
For more information please visit his website.
About Wilsonville History Night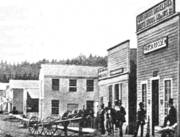 Join us for beer and history, Co-Sponsored by the Wilsonville Public Library and Wilsonville-Boones Ferry Historical Society, the Oregon Encyclopedia, and McMenamins, in which you'll hear lively local and regional history while you enjoy a frosty pint or two of handcrafted ale.
Wilsonville Public Library:




Oregon Encyclopedia Website:
Map & Directions
Tags for this Event:
Events > History
Property > Wilsonville Old Church & Pub
Related content (tags):