A truly remarkable destination.
2126 S.W. Halsey St.
Troutdale, OR 97060
Local: (503) 669-8610
Elsewhere: (800) 669-8610
Contact Us
Irish Tuesdays
The Kathryne Claire Birthday Band
7 p.m. |
Free |
All ages welcome
About The Kathryne Claire Birthday Band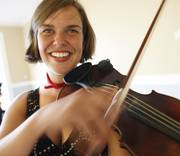 Kathryn Claire has asserted herself in a new generation of traditionally-inspired musicians. Her fiddle-playing exhibits a technical grace which is matched only by her truly captivating voice and she possesses the rare ability to move seamlessly across genres. Her deep love and respect for traditional music has long been a driving influence and those roots can be heard in her own original music.
Early classical training on the violin naturally gave way to her own creative inclinations. While still a teenager, Kathryn taught herself guitar in order to explore her own voice as a songwriter. She has since spent years cultivating her unique style and approach to music as a violinist, singer, and songwriter.
Performing is a truly joyful experience for Kathryn Claire, and her love of music is evident every time she takes the stage. Strong fundamentals from her classical background combined with an innate ability to improvise and a keen sense of harmony has made her an integral member of many prominent Celtic bands in the Pacific Northwest for the past 10 years.
In 2008, Kathryn met singer and flutist, Hanz Araki through the thriving Celtic music scene in Portland, OR. Their shared love of traditional music combined with their passion for harmony and devotion to their craft has made them a force in the Celtic music community at home and abroad. They have toured extensively throughout the US, Canada, and Japan and have released an ambitious series of themed Celtic music albums.
Map & Directions
Tags for this Event:
Music > World Music
Property > Edgefield
Related content (tags):