Great Northwest Music Tour
Cooper and The Jam
Plus an interview with the band, beer samples and free apps!
with
Rum-Barrel-Aged The Crux
Limited-Edition Beer Tasting
7 p.m. |
Free |
All ages welcome
Every month the Great Northwest Music Tour blazes a fresh musical trail, bringing an ever-changing lineup of talent to McMenamins Historic Properties. There is no admission charge to the festivities, and our unique hotels offer food, handcrafted beverages and a cozy place to bed down after the last note is played. Bring your friends and family and jam to a different artist every month.
About Cooper and The Jam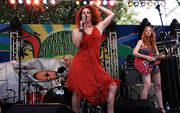 Fresh on the scene, Cooper brings a fiery spirit and a massive voice to the turn table. She performs with a power and tenacity that is difficult for most young women to muster. Backed by her extraordinary 11-piece soul band, this firecracker knows how to put on a show.
In March 2011, Cooper packed up her VW van in Portland, Oregon, and made the quest to Nashville, Tennessee. The flame haired songstress had paid dues playing in bands, acting in local productions, and bar-tending at a seedy rock'n'roll strip club. It was time to take a shot at her life time dream of recording her songs and forming a road band in music city. After months of knocking on doors, typical hard luck, and sleeping on an air mattress in an old '60s hotel room, Cooper finally got someone to pay attention to her music and her talent. She began working with a producer and started writing the record she has always wanted to make, a soulful assortment of Motown style ballads and funky upbeat dance tunes sprinkled with rock-and-roll guitars and rich harmonies
She saved her pennies flipping cheeseburgers and popping beer caps at a popular honky tonk bar and formed two bands on each side of the country. The Jam, complete with horn sections, and back up singer/dancers is a collective of over 20 musicians that back her touring adventures. Her music is as big and bold as her ambition, and her performances rock the house.
Cooper played her first show in Nashville opening for the Queen of Rock and Roll herself, Wanda Jackson, at a birthday bash held for fashion icon Manuel. Her music caught the ear of music industry notables and she recorded her full length album, Motown Suite, at The Tracking Room (as seen on ABC's new hit drama Nashville), one of Nashville's top recording studios
On Record Store Day 2013, Cooper performed on both sides of the country in one day. She Pulled a cross-country stunt that included 21 musicians, 2 planes, 2 record stores, and a lot of balls. Most recently Cooper and The Jam opened for Legends Mavis Staples and Robert Plant at the Waterfront Blues Festival in Portland, Oregon.
Cooper's 7-inch single, "Cooper Live at the Historic Star Theater," was selected as an official Record Store Day release, and the buzz has begun to spread as far as Japan, that this indie artist has something special. Cooper is a bright new talent that draws from the past and paints the future with a fresh and unique style.
Sonicbids:




website:
About Plus an interview with the band, beer samples and free apps!
Tonight we also have samples of a special limited-release beer, chats with the Crystal Ballroom brewers, and a live, onstage interview with the band.
About Rum-Barrel-Aged The Crux
Dark crystal rye, chocolate malt and oat malt make up the backbone of this beer, giving it a sweet spice character on the nose with a smooth full bodied chocolate mouth-feel that leaves your palate with a pleasant flavor. The aging of this beer within one of our Three Rocks rum barrels was the crux of this brew, defining it with a well-rounded rum character as well as an unparalleled sweetness.
Malts: Pale ale, Maris Otter, Oat malt, Dark Crystal Rye, Caramunich 120L, Vienna, Chocolate Malt, Black
Hops: Perle, Brewers Gold
OG: 1.070 TG: 1.018 ABV: 6.7% IBU: 41 SRM: 40
About Limited-Edition Beer Tasting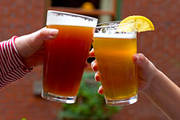 Join us once a month to sample a new, small-batch beer, handcrafted by one of our brewers.
Talk to the brewers, ask beery questions, enjoy happy hour pricing all night long on these limited-edition pints and more.
And when the beer is gone, it's gone.
Map & Directions
Tags for this Event:
Events > Beer, Wine, and Spirits
Property > Crystal Ballroom Property
Related content (tags):