Shannon Stephens
9 p.m. |
Free |
21 and over
About Shannon Stephens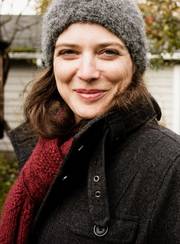 Shannon Stephens is a Seattle-based singer/songwriter. She began her career in 1993 as the voice of the Michigan folk-rock band Marzuki, assembled and co-led by Sufjan Stevens. When Marzuki disbanded, Stephens moved to Seattle and embarked on a solo career, recording her self-titled debut LP in 1999. Shortly after its release, she lost her taste for the business side of musicianship and retreated, spending the next eight years focusing on home, family, and the pleasures of an abundant garden. Those years of domesticity gave rise to 2009's The Breadwinner - an album described by Exclaim! as "intensely relevant, lyrically incisive and richly deserving of your attention." Jon Pareles of The New York Times said of The Breadwinner "she finds moments of companionship and epiphany, when the commonplace falls away."
In 2008, Bonnie 'Prince' Billy covered Stephens' song "I'll Be Glad" on his album Lie Down In The Light. In 2010, Asthmatic Kitty Records re-released her debut LP, which was included in the Paste magazine feature "Five Amazing Albums In My iTunes You've Never Heard Of".
Stephens produced her third album, Pull It Together, in 2012 with the help of Grammy-award winning engineer Kory Kruckenberg. The album brought together a brilliant cast of musicians, including Jeff Fielder (Mark Lanegan, Isobel Campbell), James McAlister (Sufjan Stevens, Pedro the Lion) and Steve Moore (Sufjan Stevens, Laura Veirs). It featured a duet with Bonnie 'Prince' Billy, a collaboration with New York songwriter DM Stith, and backing vocals by Galen Disston of Pickwick. Pull It Together represented a leap in confidence and songcraft for Stephens. She received acclaim from Seattle publications such as The Seattle Weekly, The Stranger and City Arts magazine around its release. Especially notable are the awards of "Best Female Vocalist of 2012" and being counted among the "Ten Best Seattle Albums of 2012" by The Seattle Weekly. City Arts Magazine said "Shannon Stephens is a talented musician, a master of subtle stagecraft and a fantastic songwriter with an increasingly brilliant body of work
Stephens toured Pull it Together for six weeks in spring/summer 2012 with drummer, singer and multi-instrumentalist Andrew Rudd. She is currently preparing some unique releases for 2013 and writing her fourth album.
MySpace:




website:




Facebook:
Map & Directions
Tags for this Event:
Property > Boon's Treasury
Related content (tags):