Back to school in Bend!
700 N.W. Bond Street
Bend, OR 97703
Local: (541) 382-5174
Elsewhere: (877) 661-4228
Contact Us
Worth
7 p.m. |
Free |
All ages welcome
About Worth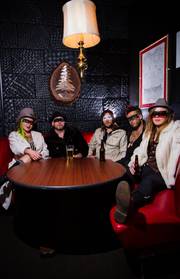 Portland Oregon-based folk-soul alchemist WORTH released his debut album 'Six Foot Soul' to critical acclaim in September 2012 and since then has been on the road touring the Western US and Europe with his full band or street duo (WORTH + BONDY). The 24 track concept album is an epic adventure that cross breeds genres of folk, rock, blues and soul into a style WORTH has deemed "bohemian blues hop." Incorporating bucket drum and tribal backbeats, psychedelic interludes with poetry, and, most of all, mature and catchy songwriting, the album is simultaneously an art piece and a collection of radio-worthy singles. At it's core, 'Six Foot Soul' is an homage to WORTH's background in philosophy, his family, and also to the street corner where many of the compositions began. Vocal samples sprinkle the record and function as a sort of Greek chorus, leading the listener through a journey that is challenging on emotional, intellectual and spiritual levels.
Hot off the word of mouth momentum from this debut, WORTH is already in the studio tracking the sophomore release with the full band. Whereas 'Six Foot Soul' was inherently philosophical, 'Two' (the slated title) will focus primarily on love and relationship. These two albums are part of a greater trilogy called 'The (Id)Entity Trilogy' which WORTH plans to complete by mid 2014. 'Two' is schedule for release on Sept. 14th 2013
Born Christopher Worth, the moniker WORTH arose out of family tradition and a desire for an artistic separation from the singer-songwriter paradigm. The live show varies from an intimate acoustic setting during a solo set to the more funky street-style duo WORTH + BONDY to, in it's full expression, a ruckus 5 piece rock band with vocal harmonies and dual electric guitars. No matter what incarnation the spirit of the performance remains the same: straight to the heart and soul. Audiences leave feeling recharged and inspired.
With Christopher Worth on lead vocals, guitar, and piano, the band includes several dynamos from the Western US: Phil Bondy (bucket drums, drum set), Aliina Champion (backup vocals, percussion), Kenton Clow (lead guitar), and Patrick Curtain (bass
Since the dissolution of his prior full band project NIAYH (Now Is All You Have) in 2011, WORTH has been performing and collaborating in a variety of capacities. In particular he has played live with Allen Stone, Lynx, March 4th Marching Band, Marv Ellis, SaQi, Russ Liquid, Lila Rose and has been a repeated cast member in Portland's yearly White Album Christmas show.
Facebook:




Website:
Map & Directions
Tags for this Event:
Property > Old St. Francis School
Related content (tags):