Back to school in Bend!
700 N.W. Bond Street
Bend, OR 97703
Local: (541) 382-5174
Elsewhere: (877) 661-4228
Contact Us
TapWater
7 p.m. |
Free |
All ages welcome
About TapWater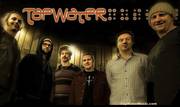 From Seattle to San Diego, TapWater's sound colors outside the lines of Americana, while bringing musical inspiration from around the globe right to your front porch. TapWater relies on inspired songwriting, virtuoso musicianship and knockout performances to keep you coming back for more. The band's homegrown humor and down-to-earth style complement the sound seamlessly, and create a live show that is particularly appealing to people who have tired of mainstream pop.
This boisterous sextet blends the sound of banjo, steel pans, piano, accordion, upright bass, guitar, vocal harmonies, drums aplenty and more into a swirl of highly danceable and strangely exotic music steeped deeply in the roots of American tradition. Bandmates Steve Moore, Timmy Jones, Rudy Slizewski, Ravi Laird, Wes Elliott and Simon Lucas are all curious about how different cultures produce music. They study, explore and borrow from genres across the world and delight in their shared desire to run it all through their uniquely American filter.
TapWater has garnered respect from artists they consider influences, having teamed up with the Squirrel Nut Zippers, Albino and The Duhks for unforgettably huge encores. They have also caught the attention of some of their more legendary influences.
Their seventh release in seven years, produced by Steve Berlin of Los Lobos, features multiple performances from members of War, The Motet and James Brown's band, The Famous Flames. The new album has already been compared to the likes of The Band, Paul Simon, Lyle Lovett and 1970s Van Morrison.
website:
Map & Directions
Tags for this Event:
Music:
World Music
Americana
Property > Old St. Francis School
Related content (tags):