Come have fun in school... for once...
5736 N.E. 33rd Ave.
Portland, OR 97211
Local: (503) 249-3983
Elsewhere: (888) 249-3983
Contact Us
Q Doc Film Festival
"Goodbye Gauley Mountain: An Ecosexual Love Story"
7 p.m. |
$10 per person; $8 students & seniors; $75 festival pass |
Minor with parent or guardian
About Q Doc Film Festival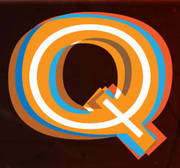 QDoc is the only festival in the United States, and only the second in the world, devoted exclusively to Queer Documentaries. More than a screening series – it is a fun, inspiring, and community-building event. Filmmaker attendance is a big part of the mix, with guests joining us from around the world to discuss their work. The Clinton Street neighborhood, with its numerous cafes and restaurants, becomes a mini queer district during the long weekend, enhancing the social aspects of the festival.
Founded in 2007, the Festival has been presented each year in cooperation with the Portland Q Center, whose mission is to increase the visibility of, and foster connection within, metropolitan Portland LGBTQ community.
Website:




Facebook:
About "Goodbye Gauley Mountain: An Ecosexual Love Story"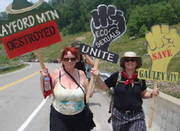 Blending old-school environmental activism with eco-erotic lesbian performance art, Goodbye Gauley Mountain is an earnest love letter to the endangered Appalachian Mountains of West Virginia, where filmmaker Beth Stephens grew up.
Over recent decades, mountaintop removal mining (also called MTR), where the tops of mountains are blown off to expose the coal seams beneath, has caused thousands of square miles of ecological devastation to one of the most biodiverse regions of North America. Goodbye Gauley Mountain combines personal memoir, as Stephens returns to the place of her birth, with a sober look at the history of MTR and its grim effects on local communities.
What sets this film apart in the chorus of increasingly urgent cries on behalf of a planet in distress is the unusual style of activism employed by Stephens and her partner, former sex worker and porn star Annie Sprinkle. Describing themselves as ecosexuals, Stephens and Sprinkle have collaborated on a series of rainbow-themed performance art weddings aimed at eroticizing their relationship with the Earth and making ecological activism "more sexy, fun and diverse."
Their goofy sweetness enlivens the film's serious intentions, culminating in a purple-clad ceremony in which Stephens and Sprinkle wed themselves to the mountains. Especially for Portland, which hosted last year's EcoSex Symposium and this year's Ecosexual Convergence, the combination is an appealing one.
— Stella Maris
video:




website:




imdb:
Map & Directions
Tags for this Event:
Movie Types > All Ages
Property > Kennedy School
Related content (tags):