30340 SW Boones Ferry Rd
Wilsonville OR 97070
Phone: (503) 427-2500
Fax: (503) 427-2519
Contact Us
Co-sponsored by the Oregon Historical Society & KGW-TV, in celebration of the 100th anniversary of Tom McCall's birth
Special Tom McCall Centennial Anniversary History Program
"Pollution in Paradise: Tom McCall's Environmental Documentary"
Historical Documentary Film Screening
Wilsonville History Night
6:30 p.m. |
Free |
All ages welcome
About "Pollution in Paradise: Tom McCall's Environmental Documentary"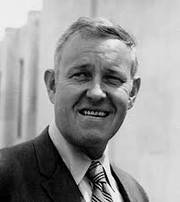 A screening of the complete, landmark 1962 KGW-TV documentary, "Pollution in Paradise" plus a contextual introduction and post-screening Q&A led by Dr. William G. Robbins, Emeritus Distinguished Professor of History, Oregon State University.
KGW-TV aired McCall's famous documentary, "Pollution in Paradise," on November 12, 1962, a sharply critical report of the condition of the Willamette. In the film, McCall firmly staked out a moral position in the pollution debate and pushed questions of livability to the forefront of public attention. "Pollution in Paradise," was a tour de force, pressing home the powerful idea that there was no contradiction between jobs and quality of life in Oregon.
– excerpt from William G. Robbins' "Pollution in Paradise" entry to the Oregon Encyclopedia
Bill Robbins is emeritus distinguished professor of history at Oregon State University. He has authored and edited several books, including Oregon: This Storied Land (2006);Landscapes of Conflict: The Oregon Story, 1940-2000 (2004). His most recent book, Nature's Northwest: The North Pacific Slope in the 29th Century, was co-authored with former OSU student Katrine Barber and published in the spring of 2011. He recently completed a biography of Monroe Sweetland and has begun a history of Oregon State University.
Oregon Historical Society:
About Wilsonville History Night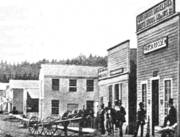 Join us for beer and history, Co-Sponsored by the Wilsonville Public Library and Wilsonville-Boones Ferry Historical Society, the Oregon Encyclopedia, and McMenamins, in which you'll hear lively local and regional history while you enjoy a frosty pint or two of handcrafted ale.
Wilsonville Public Library:




Oregon Encyclopedia Website:
Map & Directions
Tags for this Event:
Events > History
Property > Wilsonville Old Church & Pub
Related content (tags):