In the heart of Oregon's wine country...
310 N.E. Evans Street
McMinnville, OR 97128
Local: (503) 472-8427
Elsewhere: (888) 472-8427
Contact Us
Alien Costume Ball
Featuring live music by
The Strange Tones
8 p.m. |
Free |
All ages welcome
About Alien Costume Ball
To cap off the UFO Festival weekend, attend our Alien Costume Ball for live rock 'n' roll by The Strange Tones and a chance to win prizes for the most comical or well-done outfit - use of tin foil, antennae headgear and face paint is highly encouraged.

Come in costume to compete for a prize, or just come to gawk at the crazy outfits! You won't believe the lengths to which some of our guests go in fashioning otherworldly ensembles.
About The Strange Tones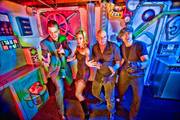 Hailing from an undisclosed secure location in the Pacific Northwest, The Strange Tones are known for their wildly entertaining live shows and their original Crime-A-Billy sound. Their distinct style fuses blues, rock, surf, and R&B with film noir sonic hues, and combines all of these ingredients with well-crafted song writing and dynamic performances. Inducted into the 'Hall of Fame' by the Cascade Blues Association, the band has received five awards for "Best Contemporary Blues Act", as well as multiple awards for "Best Electric Guitar" and "Best Northwest Recording". This fearsome foursome, led by the husband-and-wife team of Guitar Julie & bassist Andy Strange, and fortified by longtime partners Suburban Slim and drummer Andy Gauthier, form "...one of Portland's most accomplished bands." -Oregonian
The Strange Tones are no ordinary band. Combining a youthful enthusiasm with many years of professional musical experience, this Northwest band puts their unique and original stamp on American roots music. It's the sound of Fender amps set up at the crossroads of blues, rockabilly, surf and R&B. It's the sound of Slim Harpo meets Link Wray, Magic Sam meets Wanda Jackson. It's the sound of raw meets tight.
On guitars the Strange Tones feature Guitar Julie and Suburban Slim. These tasteful players swap rhythm licks and sizzling solos with crowd pleasing stage dynamics. Raised on a steady diet of Jimmy Reed?s blues and Ike and Tina?s R&B, Guitar Julie?s incendiary solos light up the stage while her soulful vocals leave no doubt that every word she sings has got to be true. Suburban Slim, recognized as one of the Northwest?s top guitar players, brings to the Strange Tones? sound a perfect blend of searing guitar work and tasteful restraint. From understated blues to surf-a-billy madness his playing always entertains.
The big fat groove of the Strange Tones comes from one of the finest rhythm sections around. Bass player Andy Strange and drummer J.D. Huge lock in with a driving force that can only come from years of misspent youth playing together in bands. J.D. Huge propels the band with a steady hand, at times with a subtle shuffle, at others swinging like a man possessed. Andy S trange keeps the band firmly anchored in the roots with the deep throb of a Fender bass. Mr. Strange also spices up the mix with some lowdown harmonica, baritone guitar and heartfelt vocals.
The Strange Tones have released two highly acclaimed CDs featuring their explosive playing and crafty songwriting: Crime-A-Billy (2005) and Stink Bomb! (2003).
"....this too-cool-for-school quartet are a guaranteed good time, mixing sizzling surf, righteous rockabilly and secret-agent-man sang froid. There are zillions of bands in this naked city, but very few sound as good as the Strange Tones over a pitcher of beer and a greasy cheeseburger." - Portland Monthly Magazine
website:
Map & Directions
Tags for this Event:
Property > Hotel Oregon
Related content (tags):