at Crystal Hotel
303 S.W. 12th Ave.
Portland, OR 97205
Local: (503) 972-2670
Elsewhere: (855) 205-3930
Contact Us
Garcia Birthday Band
w/guest Lex Browning
7 p.m. |
Free |
21 and over
About Garcia Birthday Band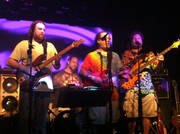 Garcia Birthday Band (GBB), based in Portland, Oregon, is a group of veteran musicians interpreting and celebrating the vast repertoire of the late Jerry Garcia and The Grateful Dead.
But this isn't a "tribute band!" Drawing on years of individual and shared experience, these players are able to craft and transform these tunes into something fresh and original. Solid chops, tight arrangements and fine harmonies all contribute to the band's musical travels and explorations of possibly the greatest and most diverse songbooks of all time.
Always sure to raise the roof and keep the dance floor rocking, hoppin' and shakin', the band's quickly growing "GBB Family" fan base finds the community spirit and kind vibes contagious.
Music-lovers with a wide variety of tastes enjoy this band's extensive playlist which includes classics from Bob Dylan, Smokey Robinson, The Beatles, Johnny Cash, Chuck Berry, Jimmy Cliff, Traffic, Dr. John, Merle Haggard, The Meters, Neville Brothers, Buddy Holly, Otis Redding, Warren Zevon, Rev. Gary Davis, Bruce Cockburn, and Peter Tosh, to name a few. If your musical tastes range from rock-and-roll, country, R&B, blues, bluegrass, folk, or Americana, you will dig this band. No need to be a Deadhead.
With musicians hailing from the likes of New Riders of the Purple Sage (NRPS), David Nelson Band, Kingfish, Cubensis, Buds of May, Ike Willis Band, Brothers Jam and LOOS3, this band is certain to provide high musical adventure!
Band Members:
Arthur Steinhorn - Drums
Scott Gillan - Bass & Vocals
Justin Pacuska - Guitar & Vocals
Jon Sokol - Guitar & Vocals
website:




facebook:




video:




audio:
About w/guest Lex Browning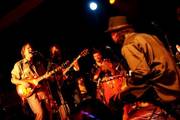 Multi-instrumentalist and songwriter, Lex grew up in a small Kentucky town along the Ohio river, performing on regional radio by the time he was 10. After the Beatles hit, his instrument was electric guitar all the way.
Temporarily dropping out of Portland's Reed College, he played banjo in a bluegrass band in Tennessee, which relocated to Lake Tahoe as the house band for a ski resort. After two days digging his car out of the snow, he returned to college in Portland and started playing fiddle, which became his main instrument for many years.
After graduation, it was back to more bands: celtic, bluegrass, jazz, rock, all kinds of music. Somewhere along the way, he started performing with Marv and Rindy Ross in their band Quarterflash, touring the US and Asia with them. Since then, he and Marv have written and recorded many songs together.
In the early 80's he hooked up with Jeffery Frederick and the Clamtones. Then he got an offer of a record deal so he moved to Nashville to pursue a career in country music. Great players, great times. His band, Great Plains toured the world, made a couple records, released Dancing with the Wind which made the Country Music Top Forty Billboard chart. Lex was also staff songwriter for a couple years and a band member for folks like Tanya Tucker, Pam Tillis, Vince Gill, Kenny Rogers, and Trace Adkins, performing on records and national TV. Played with the Nelson twins, Rickies' kids, and went all over the place watching girls scream themselves silly for Gunnar and Matt.
He also did a stint playing fiddle and mandolin with the Austin Lounge Lizards and contributed an original song on to their CD Never An Adult Moment.
Returning to Portland, Lex played with the Trail Band and hooked up with the Freak Mountain Ramblers, some buddies from the Clamtone days. Along the way he's also performed and written with Benmont Tench (Tom Petty and the Heartbreakers), Storm Large ('Rock Star: Supernova'), zydeco legend Queen Ida and blueswoman Mary Flower.
MySpace page:
Map & Directions
Tags for this Event:
Music:
Rock
Groove/Jam
Americana
Property > Crystal Hotel
Related content (tags):