Back to school in Bend!
700 N.W. Bond Street
Bend, OR 97703
Local: (541) 382-5174
Elsewhere: (877) 661-4228
Contact Us
The Acorn Project
7 p.m. |
Free |
All ages welcome
About The Acorn Project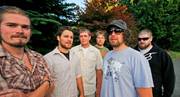 "Classic jam bands are a dime a dozen; indie rock jam bands are slightly more expensive. Bellingham, Washington's Acorn Project gives listeners their money's worth with funky epics that rock enough to make a good Christmas present for your Deadhead uncle but are jazzy enough to play for your hipster friends... Constantly changing and seldom boring, this is a show not to be missed." -Santa Cruz Metro
Having released their second full-length album entitled We'll Be Fine, Acorn Project's music is quickly spreading around the nation. The album has seen charting as high as 5 on the jambands.com national index, and 4 on CMJ charts throughout the country. Eartaste.com rated it one of the top 12 albums of the year, and great reviews have flooded in from all parts of the U.S. and Europe. We'll Be Fine took home the album of the year award in this year's What's Up Awards sponsored by What's Up Magazine. Acorn Project is poised to begin national touring in 2010, while continuing to pack rooms for their acclaimed performances in the Northwest.
As a six-piece ensemble featuring saxophone, guitar, slide, keyboards, bass, drums, and percussion, Acorn Project produces an irresistibly unique sound. The band's funk-infused progressive rock draws an audience inward with their performance, infecting each individual with their ability to blend seemingly limitless musical styles into their own character. Formed in 2004, this Bellingham, WA based sextet is rapidly building a devoted fan-base around the country.
Boasting an impressive resume, high profile performances are common for Acorn Project. Since Fall of 2007 Acorn Project has shared bills with seasoned professional acts such as Widespread Panic, Tea Leaf Green, EOTO, RAQ, Zilla, BLVD, Hot Buttered Rum, The Bridge, Blue Turtle Seduction, Izabella, Flowmotion, The Living Daylights, and many more. Creating an uplifting atmosphere for everyone, and anyone, Acorn Project will lift crowds to ecstatic dance at every show.
Facebook page:




MySpace page:




Official Website:
Map & Directions
Tags for this Event:
Music:
Rock
Groove/Jam
Alternative/Indie
Property > Old St. Francis School
Related content (tags):