A truly remarkable destination.
2126 S.W. Halsey St.
Troutdale, OR 97060
Local: (503) 669-8610
Elsewhere: (800) 669-8610
edge@mcmenamins.com
Hosted by McMenamins Edgefield
The Oregon Distillers Festival
part of
Edgefield's 102nd Birthday Celebration
and
Special Beer Releases
'Three Rocks' Rum Barrel-Aged Meridian Response Chocolate Stout
Troll's Toll Terminator Stout
part of
Oregon Craft Beer Month
1 p.m. 'til 6 p.m. |
$20 advance, $25 day of event (each ticket includes 14 tasting tokens) |
21 and over
Buy Tickets
Tickets on sale now!
About The Oregon Distillers Festival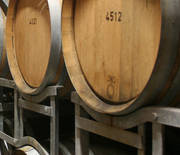 Guests can relax in a meadow while choosing samples from more than 100 Oregon-made spirits from 20-plus Oregon Distilleries – all in one place! Pair those spirited samples with tasty bites from Black Rabbit Restaurant Executive Chef Kenny Giambalvo. The event includes bottle sales, a silent auction and distillery tours – just be sure to have your ticket to enter! At the same time on the property are the musical festivities and activities of Edgefield's 102nd Birthday Celebration.
Participating Distillers

Edgefield Distillery (Troutdale)
Cornelius Pass Roadhouse Distillery (Hillsboro)
Bend Distillery (Bend)
Bull Run Distillery (Portland)
Big Bottom Whiskey (Hillsboro)
Brandy Peak Distillery (Brookings)
Cascade Peak Spirits Distillery (Ashland)
Clear Creek Distillery (Portland)
Eastside Distilling (Portland)
Elixir (Eugene)
Glaser Estate Winery (Roseburg)
Hard Times Distillery (Monroe)
Immortal Spirits and Distilling Co. (Medford)
Indio Spirits (Portland)
New Deal Distillery (Portland)
Northwest Distillery (Portland)
Rogue Spirits (Newport)
Stone Barn Brandyworks (Portland)
Vinn Distillery (Wilsonville)
Vivacity Fine Spirits (Corvallis)
Participating Vendors

Moonstruck Chocolate – Distillers Series Chocolate
Baby Barrels – Mini Aging Barrels
Essential Oil – Artisan Stills
Raw Woods – Barrel Furniture

About Edgefield's 102nd Birthday Celebration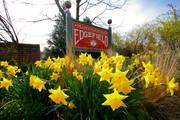 Celebrate more than a century of history at our Edgefield property, built in 1911 as the county poor farm.
About 'Three Rocks' Rum Barrel-Aged Meridian Response Chocolate Stout
The meridian response is a pleasant tingling sensation felt on the head and scalp that can be triggered by various sensory stimuli. This smooth, chocolatey beer is brewed with Meridian Cacao Company's cacao nibs and vanilla beans soaked in Edgefield Distillery's coffee liqueur along with a big bouquet of dark, sweet, and roasty malts. To further your sensory overload, we have aged this stout in an Edgefield Distillery 'three Rocks' Rum barrel. It's our experimental attempt to induce the response through taste and extreme enjoyment of an excellent beer in our test subjects.
Malts: Premium Two-Row, C-40, Roasted Barley, Pale Chocolate, Chocolate, Black, Rolled Oats
Hops: Nugget, Willamette
Adjuncts: Meridian Cacao Nibs, Vanilla Beans
OG: 1.050 TG: 1.012 ABV: 4.9 IBU:15 SRM: 31
Buzz words: Chocolate, mild, roasty
About Troll's Toll Terminator Stout
Our company flagship Terminator stout begins the journey with a bevy of wild yeast and friends in our Hogshead Whiskey barrels to assist this beers arrival to its final destination. You'll notice a touch of sourness up front, followed by a dose of chocolate and a touch of caramel. The whiskey's there, like a pot of gold on the other side of the rainbow bridge, but its troll's gold. Better pay the toll.
Malts: Northwest Two-Row, Chocolate, Roast, Flaked Barley, Brown
Hops: Chinook, Golding
OG: 1.043 TG: 1.001 ABV: 5.43%
Buzz words: Dry, drier, driest
About Oregon Craft Beer Month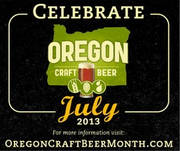 July is Oregon Craft Beer Month, a time to celebrate the many handcrafted ales, lagers, pilsners and stouts that McMenamins brews right onsite at many of our properties. So we're toasting this auspicious month with special beer events and tastings.
Oregon Craft Beer Month:




Oregon Brewers Festival:
Map & Directions
Tags for this Event:
Events:
Family
History
McMenamins Celebrations
Beer, Wine, and Spirits
Property > Edgefield
Related content (tags):