Tequila Starr and The Brew 105.9 present…
Cinco de Mayo Tequila Dinner
Hosted by Tequila Starr founder Janna Lopez
Featuring Patron & Corrido tequilas
6 p.m. |
$50 |
21 and over
Buy Tickets
Tickets on sale now!
About Cinco de Mayo Tequila Dinner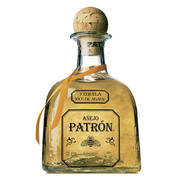 Hosted by Tequila Starr founder Janna Lopez.
Featuring Patron & Corrido tequilas.
Tequilas
McMenamins' signature margarita upon arrival
Patron Añejo, Reposado & Blanco
Corrido Añejo, Reposado & Blanco
Menu
TBD
About Hosted by Tequila Starr founder Janna Lopez
We are Janna Lopez & Mark Cook. We are tequila aficionados who are passionate about opening up the dynamic delicious world of tequila to others. We take pleasure in demystifying old perceptions of overindulgences of cheap tequila. Nearly everyone has a college tequila story…
We have been sipping, learning and engaging with the tequila world for several years. Our main goal is to learn as much as we can (and there is always a lot!) and impart that knowledge with anyone who is interested in learning more.
Janna loves blancos, reposados and anejos equally, while Mark is partial to anejos. Though we have tried many, to date, and until we discover one we love more, both of our top favorite remains Don Julio 1942. Though some tequila experts may have other top tequila recommendations, to us, 1942 is just a perfectly blended, smooth, floral and rich tequila.
Differences of opinion is what makes this diverse tequila world go around. There are many excellent blends that come into the top five to 10 on our always-evolving respective lists, and we appreciate that everyone has their own favorites. It takes a while to discern different flavors and discover what you personally like and don't like. It takes time. The subtleties among the various tequilas are sometimes obvious and sometimes hidden. Our thought is one can never go wrong by trying something new.
We live in Portland, Oregon, and love trying new restaurants (we have so many here), traveling (Maui is a favorite), guiding our kids (17, 12 and 8) going to cultural events and enjoying the beauty of the Northwest. Janna is also a publisher of a magazine, a freelance writer, a photographer and marketing brand consultant. Mark has been a longtime employee of Intel, an avid outdoorsman and plays guitar for several local rock bands.
Map & Directions
Tags for this Event:
Events:
Specialty Dinners
Beer, Wine, and Spirits
Property > Mission Theater
Related content (tags):