Leaves Russell
9 p.m. |
Free |
21 and over
About Leaves Russell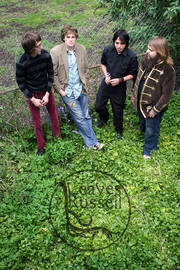 With the release of its new five-song EP "Tale of Two Basements," Leaves Russell is poised to take its music to the next level in 2011, its second year. Having performed at ever-larger Northwest venues, the young quartet is planning regional tours.
The group's rocking, emotional sound both pays homage to and charts new territory away from the so-called "Portland sound."
Produced and written by the band, "Tale" was engineered at New North Sound in the downtown space where the Kingsmen put "Louie, Louie" to tape. Mastered by Carl Saff, the songs take listeners on a heartfelt journey that never sacrifices its lusty groove. With keys, electric strings, huge vocals, acoustic/electric bass and raging drums, Leaves melds ragtime and rock, electronica, folk and pop.
Its unique sound is the reason the quartet was invited to perform at Portland's Top Down Film Festival and the Sunset in Seattle, and dozens of other venues. It's why the band won Portland State University's 2010 "Battle of the Bands." It's a sound that comes from its members' lifelong love affair with music.
After hearing his granddad play "In The Mood" on a shaky upright at age 7, Russell nagged his parents until they got him his very own Casio, then an upright he pounded into the Texas dust.
Medina didn't learn bass from his father; he saw it as the way to pick up chicks. But when as a young adult the Mexican-born Medina met his dad, now a professional guitarrista in Spain, the connection was undeniable. Now his basement in Portland's Brooklyn neighborhood, cat box and all, is a rotating home to three local bands.
Portland native Conrad's mom played guitar and sang, while dad played drums in the same amplifier and totem-filled Hazelwood basement Leaves uses. Conrad's rawkin style was forged by his folks, who survived club fires and fights, never losing their love of music.
Milwaukee transplant Schmid built on classical training with blue notes and electricity: his work on violin, mandolin and viola centers on improvisation, amplifiers and effects. His dad is a retired music professor who played in a polka band, his mom an autoharpist and music workshop organizer.
Truth, there is no artifice to Leaves Russell. Whether inviting concert attendees into an authentic, cocoon-like bubble of sonic warmth, or making recordings like "Tale of Two Basements," Leaves Russell are simply doing what they know best. Having fun. Making exciting music.
Map & Directions
Tags for this Event:
Property > Boon's Treasury
Related content (tags):