30340 SW Boones Ferry Rd
Wilsonville OR 97070
Phone: (503) 427-2500
Fax: (503) 427-2519
Contact Us
"A Man and His Cameras - The Photography of Ralph Eddy, from Glass Plates to 35mm Slides"
Wilsonville History Night
6:30 p.m. |
Free |
All ages welcome
About "A Man and His Cameras - The Photography of Ralph Eddy, from Glass Plates to 35mm Slides"
John Klatt, of Old Oregon Photos, explores how changing technology and the need to make a living influenced Ralph Eddy's Oregon photographs.
Oregon photographer, Ralph J. Eddy (1889-1970) had a remarkable 60-year career, in which he progressed from glass plates to acetate negatives to 35mm film and color slides. Eddy is best known for his popular series of postcards from the 1920s, images that he took while traveling around Oregon by car with his wife, documenting the wonders of the state. A career-spanning retrospective of Eddy's work is currently on display at the Museum of the Oregon Territory in Oregon City.
John Klatt, a West Linn resident, is a local historian and longtime admirer and collector of historic images from Oregon's past. For his company, Old Oregon Photos, he works with private collectors and institutions to reproduce classic views that combine historic interest and artistic merit.
About Wilsonville History Night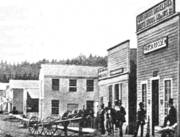 Join us for beer and history, Co-Sponsored by the Wilsonville Public Library and Wilsonville-Boones Ferry Historical Society, the Oregon Encyclopedia, and McMenamins, in which you'll hear lively local and regional history while you enjoy a frosty pint or two of handcrafted ale.
Wilsonville Public Library:




Oregon Encyclopedia Website:
Map & Directions
Tags for this Event:
Events > History
Property > Wilsonville Old Church & Pub
Related content (tags):