Come have fun in school... for once...
5736 N.E. 33rd Ave.
Portland, OR 97211
Local: (503) 249-3983
Elsewhere: (888) 249-3983
Contact Us
May Day Celebration
Copper & Coal
The Northstar Session
Mark of Mystery
All Together Now
Maypole Dancers, Joe Mishkin the Balloon Guy & Amanda Killoran the Face Painter
4 p.m. 'til 9 p.m. |
Free |
All ages welcome
About May Day Celebration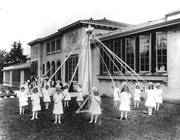 Watch local Laurelhurst Elementary kids skip around the maypole, reenacting a century-old Portland public school tradition. Enjoy other kids' entertainment, live music, a magician and more. Stay for dinner and maybe a movie in the theater.
SCHEDULE
Front Lawn
4:30 p.m. & 5:30 p.m. · Maypole Dancers
Gymnasium
4 p.m. · All Together Now · A Beatles' sing-a-long
6 p.m. · Northstar Session · Indie folk
8 p.m. · Copper & Coal · Honky tonk
Courtyard Pub
6 p.m. · Mark the Magician
Roving
4 p.m. 'til 7 p.m. · Joe Mishkin the Balloon Guy & Amanda Killoran the Face Painter
About Copper & Coal
Leslie Beia and Carra Barratt Stasney are often asked if they are sisters. "Sometimes I can't tell my voice from hers on recordings," says Carra.
They met in the winter of 2012, at the Landmark Saloon in Portland, OR. Leslie was playing her weekly Monday night gig with Saturday Night Drive and Carra came on a friend's recommendation. It turned out they were both from Michigan. After some reminiscing, Leslie invited Carra to sing with her sometime. Soon Carra started sitting in, singing harmony, on Mondays to a great response. People were struck right away at how good they sounded together.
Their harmonies inspired the songwriter in Carra. She penned Kentucky Blue and offered it to Leslie as the first song in their duo project together. "I loved that song right away," says Leslie. They continued writing, both contributing new songs to the project. Now they are close to an album's worth and plan to record before the spring. Songs like "I Can't Believe I've Fallen"--Leslie's straight drivin' heart breaker, with an irresistible danceability--and Carra's "I Love a Gambler"--a slow burning torch tune on the dangers of desire--keep audiences energized and intrigued.
If you love close harmony and that classic honky tonk sound, these ladies can deliver. They may have just what you've been missing.
Reverbnation:




Facebook:
About The Northstar Session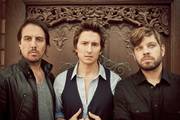 You may recognize their music from film and TV, or their recent live performance on NBC's Parenthood this Fall (Season 2; Ep. 2). Most recently called a "combination of CSNY and Ryan Adams," by their fans, The Northstar Session "displays vocal harmonies so tight, you'll swear they're pre-recorded."
"The Northstar Session has the best combination of Wilco's neo-country glow, and Travis' earnest optimism," says LA's Music Connection Magazine. The Santa Barbara Independent says, "Whoever said catchy, straightforward pop-rock couldn't be artfully done, clearly has not heard The Northstar Session."
And Matt Malley, founding member of the rock band Counting Crows, calls this Southern California rock band "brilliant" and "thrilling!"
Originally the artistic outlet of songwriter and guitarist, Matt Szlachetka (Longmeadow, MA) as early as 2005, The Northstar Session didn't become the band you hear today until Szlachetka moved to Los Angeles in 2007 and met up with drummer/songwriter Kane McGee (Los Angeles, CA), and keyboardist/ songwriter, Dave Basaraba (Portland, OR). Since then the three have written and recorded one EP and three full-length records. A prolific song-writing team, they tour tirelessly both acoustic and as an electric band, translating their songs for any size audience/room.
Influenced heavily by the rock and roll sound emanating from Hollywood and the surrounding areas in the 1960s and 1970s, The Northstar Session chose to pay homage to many of these bands by recording two of their albums in studios in historic Laurel Canyon. This "Laurel Canyon Experience" is obvious in their music, and is often reminiscent of styles you've heard before -- pop melodies with creative harmonies and countermelodies that harken back to bands like Tom Petty and the Heartbreakers, Neil Young, The Beach Boys, Delaney and Bonnie, Little Feat and countless others.
MySpace page:




Facebook:




Website:
Map & Directions
Tags for this Event:
Events:
History
Holidays
Family
Music:
Rock
Groove/Jam
Property > Kennedy School
Related content (tags):