at Crystal Hotel
303 S.W. 12th Ave.
Portland, OR 97205
Local: (503) 972-2670
Elsewhere: (855) 205-3930
Contact Us
Jeffrey Martin
The Hill Dogs
Anna and the Underbelly
7 p.m. |
Free |
21 and over
Jeffrey on The Hill Dogs: "Dirty youngsters out of Newberg, Oregon, The Hill Dogs are a melodically rumpus folk band who are catching the ears of many in the northwest (and the nation.) I split a show with them a year or so ago at a Whole Foods street fair, and I've been anxious to play with them ever since. I'll be that guy in the audience with a notepad, feverishly taking notes and learning all I can."
...and on Anna and the Underbelly:
"Among the sea of female folksters today who are all trying to sound like each other, Anna Tivel of Anna and the Underbelly has a sound that is entirely her own. I met her a year ago and we have been collaborating as often as we can ever since. I find her songs haunting and beautiful at the same time, the kind that make you stop eating your dinner mid-bite and stare. I have let a LOT of food go cold at her shows."
About Jeffrey Martin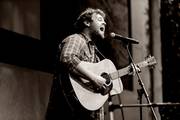 While I was earning an English degree, Josh Ritter came to my college and put on a small solo concert. Watching Ritter on stage was like watching someone trying to make sense of their existence, in real time, with a guitar and words. It seemed to be less of a performance and more of one man's necessity, which happened to be on public display that night. I had written songs before then, but certainly all that followed became something else entirely. I strive to find those songs, to write those songs, that exist in that perfect place perched between my own experience and the common experience that everyone can relate to. This rarely happens (in fact, I don't even know if it's happened yet.) I also think that I take myself much too seriously, and I have a lot to learn about writing songs that make people feel good; that make people want to shake around a little bit.
When I'm not playing music I substitute teach high school students. People love to ask how I balance music and teaching, which one I'm more passionate about; would I leave teaching behind entirely to pursue music? Does teaching influence my music? I don't know the answer to any of these things. I am passionate about music and I am passionate about teaching. Some days I can't stand music, some days I can't stand teaching. Both can feel like work, and both can leave me feeling like a crook for getting paid to do what I do.
I grew up a little bit in Texas, and then mostly in Oregon. My parents read to me at night and took me to the library and flooded my ears with music that meant something. My mom made me learn the cello at a young age. My dad took me to see John Gorka and Leo Kotke. I have a dog, a yellow lab named Ben, who has toured more than 10,000 miles with me over the past few years (human miles.) I play an old 1970′s Takamine gifted to me by my uncle.
-Jeffrey Martin has released two albums. Gold in the Water (2009) and Build A Home EP (2012.) In 2011 he was invited to the Sisters Folk Festival as an emerging artist, and then returned in 2012 as an officially showcased artist. In fall of 2012 Jeffrey was a finalist in the Mountain Stage / New Song contest in New York City. And he has earned songwriting mentions in American Songwriter Magazine, as well as the 2009 Kerrville Folk Fest songwriter contest.
Website:
About The Hill Dogs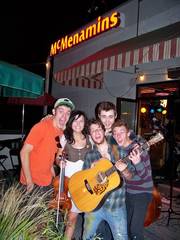 Founded in 2010, Newberg, Oregon's Hill Dogs started out as a group of friends playing in the park and at each other's house. They soon realized they had a very special and unique sound. A year later The Hill Dogs have emerged as one of Oregon's premiere contemporary folk bands, pulling influences from a wide range of musicians such as Bob Dylan, The Black Keys and some old-school bluegrass. Get ready to experience "Folk & Roll" as only The Hill Dogs can do it.
About Anna and the Underbelly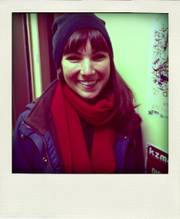 Anna and the Underbelly mixes small town melodies with words found on the sidewalks of the city. Each song is a gently written attempt to sort out the reasons behind the people and places that hold us.
Since getting started in the fall of 2011, Anna has played both solo shows and shows accompanied by a rotating band of wonderful musicians. Her music is lyric-driven, honest, and hopeful.
ReverbNation:




Facebook:




Website:
Map & Directions
Tags for this Event:
Property > Crystal Hotel
Related content (tags):