A truly remarkable destination.
2126 S.W. Halsey St.
Troutdale, OR 97060
Local: (503) 669-8610
Elsewhere: (800) 669-8610
Contact Us
Skip Gorman
7 p.m. |
Free |
21 and over
About Skip Gorman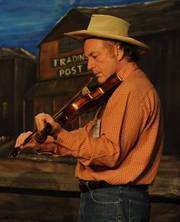 Skip Gorman performs Oldtime Ballads, Stories, and Fiddle Tunes of the American west...
Through his music, SKIP GORMAN brings back to life the workaday world of the old "waddie" cowboys and pioneers of the American West. His old time, all-acoustic music is the simple yet poignant music with true Celtic and Appalachian roots that was performed around campfires by cowhands and westward settlers in the late 19th century. Along with an exquisite touch as a singer, guitarist, fiddler and early Bill Monroe-style mandolinist, Gorman brings to the music a scholar's knowledge of the cowhands Celtic, Spanish and African-American roots as well as personal experience gained as a working cowboy on Wyoming ranches.
Gorman has performed on Garrison Keillor's "A Prairie Home Companion," and documentary filmmaker Ken Burns has featured Skip's music in both his "Lewis and Clark" and "Baseball" specials on PBS. Skip has also earned the nation-wide honor of being one of the three bluegrass mandolin instructors chosen to teach at the first Bill Monroe Mandolin Workshop weekend at the International Bluegrass Museum in Owensboro, KY.
Gorman has several award-winning CDs on the Old West, Rounder and Folk Legacy record labels, including an INDIE Award and a 1999 Top Ten Folk Pick on Amazon.com. His latest release is "Mandolin in the Cow Camp" with artwork by the renowned western artist, William Matthews. Skip has also recently released, a CD for kids which includes a 28-page booklet of Western history and activities, "Roll On Prairie Wagons, Let'er Buck Young Cowpokes."
Skip has performed extensively in the American West and in Europe at folk and bluegrass festivals, museums and cowboy poetry gatherings. A retired Spanish and history teacher and seasoned entertainer, Skip also has performed his historically relevant music at hundreds of elementary and secondary schools all over the US. In 2006 Skip was a featured performer at the U.S. Embassy's 4th of July Celebration in Santiago, Chile. Since then he has also toured extensively in Argentina and Paraguay under the auspices of the US Embassy.
Map & Directions
Tags for this Event:
Property > Edgefield
Related content (tags):