Saloon & Hotel
836 N. Russell St.
Portland, OR 97227
Saloon: (503) 282-6810
Hotel: (503) 335-8900
Contact Us
Crown the Eagle Festival: A Polish Heritage Celebration
Featuring
Live music by Chervona
Bucharest Drinking Team
Agnieszka Laska Dancers & Polish School student dancers/singers
Vodka Tasting
plus a Polish-inspired beer, Polish food specials, a history program and more...
11 a.m. 'til late; 21 & over after 8 p.m. |
Free 'til 8 p.m. ; $10 for Chervona concert at 8:30 p.m. |
All ages welcome 'til 8 p.m.
About Crown the Eagle Festival: A Polish Heritage Celebration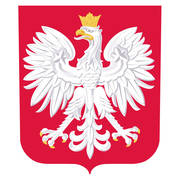 Taking its name from the symbol on the Polish national flag, the White Eagle was established in 1905 by Polish immigrants primarily as a formal meeting place and aid station for Polish immigrants in Portland. Organizational meetings for two of the pillars of Portland's Polish community –- St. Stanislaus Catholic Church and Polish Library –- were held in the White Eagle in its early days.
To celebrate its rich and historically significant past, the White Eagle hosts a full-day of Polish and Polish-inspired fare, featuring members of Portland's Polish community, a lively history presentation, live music, sing-alongs and traditional food and drink specials. Featured evening festivities include tastings of vodkas and a great line-up of live music including Chervona, a band that brings the fire of Eastern European carnivals to North Portland.
** SCHEDULE **
Free and all ages until 8 p.m.
$10 per person, 21 & over after 8 p.m.
1–4 p.m.: Polish arts & crafts booths, Kids' activities
2–3 p.m.: Agnieszka Laska Dancers & Polish School student dancers/singers
3–4 p.m.: Kids' music & storytelling by Lenka & Lizzie
4–5 p.m.: History presentation, featuring Agnes Zielony
5–7 p.m.: Vodka tasting
6:30–7:30 p.m.: Wandering accordion music, Anton Van Oosbree
8:30–9:30 p.m.: Live music by Bucharest Drinking Team
9:45–11:30 p.m.: Live music by Chervona
Plus Vodka Tasting, Polish-inspired special beer, Polish food specials, Polish arts and crafts booths and history talks, featuring a discussion of the White Eagle's Polish roots as well as the experiences of elders of the Portland Polish community.
** FESTIVAL SPECIALS **
Pierogi Soup
Made with a chicken broth base and a bouquet of vegetables, with your choice of meat or potato pierogi
Grilled Polska Kielbasa
Choice of kielbasa & potato pierogi OR kielbasa & Polish mashers
Chicken Schnitzel
Served with your choice of creamy Polish mashers or potato pierogi
Pierogi
Choice of meat & potato pierogi OR meat pierogi
Paired with rich Polish mashers
All plates are served with a sweet and tangy Polish cabbage and option of grilled onions.
About Live music by Chervona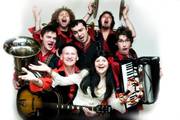 The band started practicing in Nov of 2006, and within first weeks of its existence they played at "Gypsymania" – gypsy dance discotheque created by Gogol Bordello's debaucher D.J. Dimon. After their first public appearances they rapidly gained popularity in their hometown. In 2007 Chervona played some special appearances with world famous Manu Chao and Gogol Bordello. By 2009 Chervona have shared stage with most exciting and famous Portland's bands including March Forth, 3 Leg Torso, Vagabond Opera, Portland Cello Project and many more.
In addition to countless street and club performances around pacific NW Chervona has played quite a few big stages, among them: Bite of Oregon, Northwest Folk Life festival in Seattle, Slavic Festival and Oregon Country Fair in Eugene, Red Marines festival in California, Under Volcano Festival in Vancouver (BC), Portland Polish Festival, Portland Pirate Festival, April Fool's Day Carnivals, Revolution Party in Portland and many others.
In 2008, Chervona appeared in Hale Mednick's locally produced, directed and shot independent film Messiah Complex. Two of their songs,"Chervona Wine"and "Girlfriends are a Pain", were featured on the soundtrack. "Messiah Complex" planned for screening at the 2009 Cannes Film Festival.
Chervona at its very first year playing City Repair benefit show 2007, opening for 3 Leg Torso.
During its first 4 years Chervona has played about 200 performances all over NW of America. Thousands of people from Vancouver, BC to Los Angeles watched, listened and danced to Chervona's music calling Chervona - Best NW Party Band!
Since 2008 Chervona is holding a monthly residency on every Last Thursday of the month at a legendary Portland venue, Alberta Public House with it's signature event Chervona Party!
In 2011, second monthly event was added to the calender - Chervona Secret Night on every second Saturday on a month at Secret Society Ballroom. Their second show in January 2011 at Secret Society was sold out and made a record for the clubs cocktail sales - the audience danced so hard that everyone got very thirsty.
As year 2011 is in progress, Chervona is focusing on producing new audio and video materials and establishing its e-net presence to gain more a solid fan base for the upcoming US and Europe tour and major label CD release.
Official Website:




Facebook Page:
About Agnieszka Laska Dancers & Polish School student dancers/singers
Performances of traditional Polish folk dance called Polonez and two songs "Kolorowe Kredki" (colorful crayons) and "About the Cat" (from the Puss in the Boots play)
The Chopin Project
Agnieszka Laska took on a challenging task: choreographing all 24 Chopin preludes Op. 28. So far she's completed 14 – all presented in different configurations on various occasions related to her heritage: Polish Festival in Portland, Polish Independence Day, etc. For the Polish Heritage Event at White Eagle she's combined them into a very romantic and emotional set of solos, duets and group dances, with a distinct Polish flavor.
Celebrate The Rite of Spring Centenary with ALDancers
2013 marks the 100th anniversary of the world premiere of 'The Rite of Spring', featuring a revolutionary musical score by lgor Stravinsky and equally innovative choreography by greatest Polish choreographer Vaslav Nijinsky. Get a glimpse of the new choreography by Agnieszka Laska (Full work premiere: June 7th 2013. More info: http://aldancers.org/
About Vodka Tasting
Pravda Vodka
Dates back to 1743, deep within the Eastern Carpathian Mountains in Southern Poland. Enjoyed by Polish nobility and made from the pristine ice water from the nearby mountain springs, rare late harvest sweet rye creates a vodka of incomparable richness and purity.
Ultimat Vodka
Unlike any other ultra-premium vodka, Ultimat is a carefully crafted balance of three ingredients — wheat for smoothness, rye for complexity, and potato for richness. Ultimat is produced in Poland, long considered the birthplace of vodka. Each bottle is a meticulously designed elegant cobalt blue crystal decanter.
Chopin Rye Vodka
The U.S. debut of Chopin Rye marks a new milestone for the Chopin brand, which pioneered the luxury vodka category. Long available in Poland, Chopin Rye will be available at select U.S. retailers in late March 2011, and has earned the nickname "Chopin Red" for its distinctive red label. Tasting Profile: Chopin Rye is extraordinarily silky with a medium body, a rich, balanced finish and a lively hint of spice. Clear with subtle aromas of rye dough follow-through, it is an elegant, artisanal vodka for sipping and superior cocktails.
Chopin Potato Vodka
Chopin Potato Vodka reshaped western perceptions of vodka with its introduction to the U.S. market in 1997. Tasting Profile: Chopin Potato has an alluring nose with subtle notes of vanilla and green apple. It is creamy and well-rounded with a reassuring earthiness and a long, clean finish. How to Enjoy it: Chopin Potato is an excellent base for cocktails; served neat or on the rocks, it is unsurpassed. Try it in a CEO – a Chopin martini with extra olives.
Belvedere Intense Vodka
Full-bodied and elegant, Belvedere Un­filtered is vodka at its smoothest and most distinctive. It is created from 100% "Single Estate" Dankowskie Diamond Rye, a select baker's grade grain grown on a few Polish farms. This rye possesses such a naturally creamy, intense flavour that after being distilled 4 times, the vodka is left? UNFILTERED in order to preserve its character and taste. NOSE — Intense aromas of sea air, baked bread and toasted nuts. PALATE — Full but mellow with initial impressions of salted caramel, freshly baked bread and a touch of honey. Mid palate evolves into fresh minerality with some stone and fl?int characteristics. Back palate is refreshed with delicate notes of sea salt and a hint of white pepper. Mouthfeel is rich, well rounded and luscious. FINISH — Sustained, swaying between sweet and salt.. Notes of baked bread, vanilla and cream.
Map & Directions
Tags for this Event:
Events:
McMenamins Celebrations
History
Music > World Music
Property > White Eagle
Related content (tags):