Eat, Drink, Feed Your Curiosity
1624 N.W. Glisan
Portland, OR 97209
(503) 223-4527
mission@mcmenamins.com
"The Assembly" and Oregon Humanities present
"Champion Democracy"
Think & Drink Series 2013
presented by
Olga Oliker, M.P.P.
Bruce Gilley, Ph.D.
--
5 p.m. doors; 6:30 event |
Free |
Minor with parent or guardian
About "Champion Democracy"
Americans have never been shy about professing pride in and love for our young nation – a nation that many of us are also constantly criticizing and striving to change. How do we reconcile defining ourselves both as part of and in opposition to the land we call home? Join Oregon Humanities in taking a look at our relationship to our nation in the 2013 Think & Drink series, How to Love America.
Presented by Olga Oliker, M.P.P., Associate Director of the International Security and Defense Policy Center, Senior International Policy Analyst at the RAND Corporation, and author of The Impact of U.S. Military Drawdown in Iraq on Displaced and Other Vulnerable Populations; and Bruce Gilley, Ph.D., Associate Professor of Political Science at Portland State University and author of The Right to Rule: How States Win and Lose Legitimacy and China's Democratic Future.
About Think & Drink Series 2013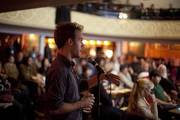 The 2013 Think & Drink series, How to Love America, explores our relationship to the nation we call home. The happy-hour series, which sparks provocative conversations about big ideas, is sponsored by Oregon Humanities and media sponsors Oregon Public Broadcasting and Willamette Week. Oregon Humanities connects Oregonians to ideas that change lives and transform communities. More information about our programs and publications—which include the Conversation Project, Think & Drink, Humanity in Perspective, Idea Lab Summer Institute, Public Program Grants, and Oregon Humanities magazine—can be found at oregonhumanities.org. Oregon Humanities is an independent, nonprofit affiliate of the National Endowment for the Humanities and a partner of the Oregon Cultural Trust.
About --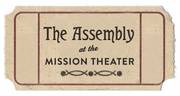 ... The Assembly
The Mission Theater -- the place that first put beers into the hands of Portland theater-goers so many years ago -- has proudly introduced a new line of programming, dubbed "The Assembly."
While retaining its relaxed environment, comfortable seating and matchless sightlines, the Mission is dropping its second-run movies, stepping up its food and beverage offerings, and -- best of all -- evolving the theater's programming dramatically. The core of The Assembly features film screenings with related lectures, interviews, and performances that bring cinema to life. And fans of Mortified, Miz Kitty and live music will be happy to learn that many of the live performances that we've all loved over the years will continue. After all, The Assembly's primary mission -- engaging audiences with events that are both enriching and entertaining -- has few boundaries!
So get your curiosity on and gather with us at The Assembly. There's a lot of world out there.
Map & Directions
Tags for this Event:
Events > History
Property > Mission Theater
Related content (tags):